September 2022: Muredach Reilly Lab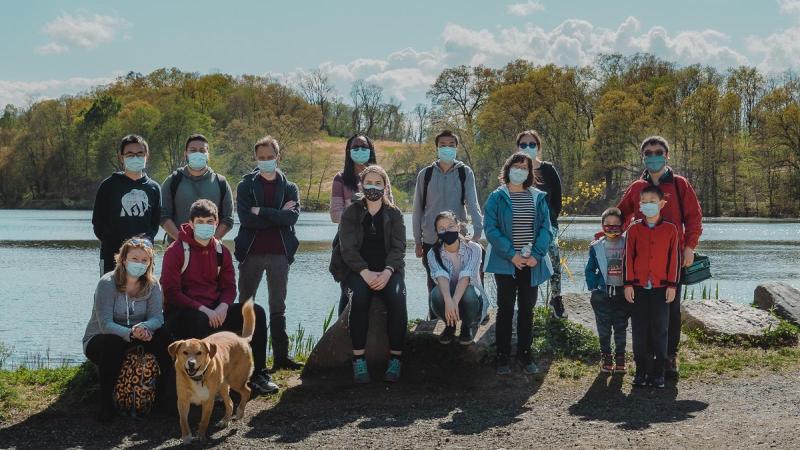 Background:
What is the main focus of your lab?
We use clinical research, mouse models, cell lines, computational approaches, and functional genomics to study cardiometabolic diseases. Project examples include vascular smooth muscle cells in atherosclerosis, monocytes and macrophages in cardiometabolic risk states, lincRNAs, and adipose tissue.
How long have you had your lab? When did you join Columbia University?
I first became a PI in 2002, and joined Columbia in 2016.
How big is your lab currently?
16 people, and part of a larger consortium of 6 labs called the Cardiometabolic Genomics Program.
Where is your lab located?
P&S 10-401 and 10-441.
Current affairs:
What are the most exciting projects/directions in the lab at this moment?
Several main research projects in our lab focuses on the molecular and cellular biology of neurodegenerative disorders such as Parkinson's disease (PD) and Amyotrophic Lateral Sclerosis (ALS), and the discovery of neuroprotective biomolecules against Chemotherapy-Induced Peripheral Neuropathy (CIPN). We are also investigating the contributions of cell-autonomous and non cell-autonomous mechanisms of neurodegeneration through the use of both toxic and genetic experimental models of PD and ALS.
What are the biggest accomplishments that your lab recently had?
An associate research scientist, Dr. Huize Pan, was recently awarded a K99/R00, and most of the preliminary data shown was published in his first author Circulation paper that used fate-mapping and single cell technologies to identify novel smooth muscle cell derived cell types and understand their role in atherosclerosis.
Technology:
What are the model systems that your lab is using? 
We use mouse models, including for adipose transplant studies and for lineage tracing of smooth muscle cell-derived cells.
What are the key techniques that your lab is using? Are you open to training scientists from other labs?
We are happy to collaborate with and train scientists from other labs. Our key techniques include single cell RNA sequencing, advanced computational analysis of transcriptome data, atherosclerosis phenotyping in mouse and human, tissue histology including RNAscope, and functional genomics studies of novel mRNA and lncRNA in human cardiometabolic disease and model systems.
What facilities or equipment does your lab absolutely rely upon? Do you use CSCI cores?
We use the 10x Genomics equipment within the Single Cell Analysis Core within the JP Sulzberger Columbia Genome Center for scRNA-seq and CITE-seq, the Institute for Genomic Medicine servers for complex computational work, the CSCI Flow Cytometry Core for flow, the HICCC Confocal and Specialized Microscopy Shared Resource for confocal microscopy, and the Pathology Core for embedding tissue blocks in paraffin.
Who shall be contacted with questions about equipment, resources and training?
Please contact program manager Leila Ross (lsr2153).
Training:
What's your best approach to mentoring trainees in the lab?
As described in a prior K24 award, I prefer a mentee-driven approach to be able to customize to each trainee. I schedule regular check-ins with trainees to go over data and discuss future experiments and professional development, including timelines, writing manuscripts, writing fellowship applications, conferences, training or courses, and the trainee's goals for their next position. The mentor should provide structure, training, clear expectations, and an open environment for communication and feedback. The mentor should also be flexible and supportive as experiments don't always go as planned!
Who were your most influential mentors/role models in science and what did you learn from them?
Garret FitzGerald MD: human-driven mechanistic translation and therapeutics development.
Dan Rader MD: Human and mouse gentic and model approaches in cardiometabolic diseases.
Can you recommend courses/lectures in Columbia University that would be most beneficial for students/postdocs?
Dr. Jaime Rubin's grantwriting course is a useful overview of grants and funding for anyone interested in an academic career. Depends on student/trainee type and stage. A lot is offered via the Irving Institute/CTSA for clinical and translational sciences.
What would be your career advice for students/postdocs?
I encourage a mix of focus and broad, big picture thinking about your life. It can be helpful to meet and talk to people in a wide variety of fields, such as by attending talks outside of your field, alumni career panels, or through informational interviews with your professional network to get a better sense of what a specific job or career path is actually like. Assess your strengths, weaknesses, and interests – there are free tools such as MyIDP to help with this. What careers match with your strengths and interests, and do they work with other factors in your life? If you have a target career (or several top options), is there anything you can do to get relevant experience or contacts while still in training? For example, if you want to go into the business side of science, you might want to do an internship with Columbia Technology Ventures, submit an application to one of the commercialization competitions, or join a relevant student club. If you want to be an academic PI, take advantage of the multiple grantwriting courses available, and try to cultivate advisors and mentors at different career stages to get a sense of what it is like to be a new, mid-career, and established investigator. I would also recommend taking the HR courses on management for most career paths. It can be helpful to have a framework for e.g., having difficult conversations, project management, reducing the risk of conscious and unconscious bias, how to give constructive feedback, and setting clear expectations and definitions of success. Finally, remember that although we work hard, your career is not your entire identity, and you should prioritize balance and time for other parts of your life for your overall well-being.
Are you accepting rotating students at the moment?
Yes.
Lab management:
How do members of your lab celebrate accomplishments?
? Bottle of champagne for papers… happy hours… day trips/hikes
Does your lab have any fun traditions?
We have a monthly social event, which has ranged from lab dinners out to hiking excursions.
What is the key to running a successful lab?
Hire people who are smarter than you! Focus, persistence, and open bidirectional mentor-mentee models.
What was the most exciting part about starting your new lab?
New lab people/team, new projects, new ideas, new collaborators, new technologies.
CSCI:
What was the main reason of you joining CSCI? What are the beneficial aspects of CSCI membership for your lab?
Although my lab does not study stem cells, there is significant scientific overlap with vascular smooth muscle cells, which are highly plastic and can de-differentiate into a multipotent stem-like cell under certain conditions highly relevant to cardiometabolic diseases. We study formation of these stem-like cells and their subsequent differentiation trajectories through single cell genomics approaches. CSCI membership gives my lab access to a community with related technical and scientific interests, and access to the flow cytometry core.
What do you plan to bring to the CSCI community?
Share lab experience and protocols; share data and knowledge – present and attend presentations; serve in advisory role.
This blog is an initiative of CSCI Trainee Council. If you want to feature your lab, please co