April 2019: Ding Lab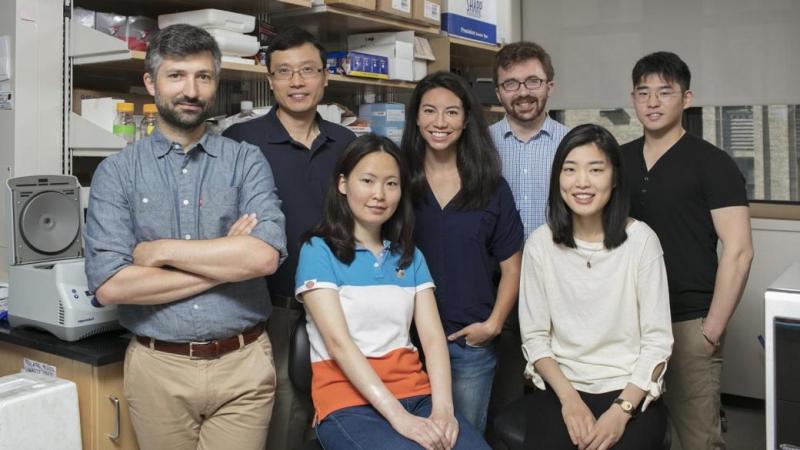 Background:
What is the main focus of your lab?
We investigate the molecular and cellular mechanisms, particular extrinsic mechanisms, that regulate hematopoietic stem cell (HSC) function. We also study how these mechanisms contribute to hematological diseases.
How long have you had your lab? When did you join Columbia University?
I started the lab 6 years ago, in 2013.
How big is your lab currently?
There are 3 graduate students, 2 postdocs (one just joined this month) and 2 undergraduate students in the lab
Where is your lab located?
My lab is at PS7-510. But in a few weeks, we will move into the brand-new CSCI headquarters on the 11th floor of the Black Building. So exciting!
Current affairs:
What are the most exciting projects/directions in the lab at this moment?
There are quite a few exciting projects going on in the lab. We have been studying how HSCs are regulated by extrinsic factors in vivo. It was believed that most of the extrinsic factors are coming from the local niche. However, we found that a canonical factor required for HSC maintenance, thrombopoietin (TPO), is generated by the liver but not the bone marrow. Importantly, conditional deletion of Tpo from the liver depletes HSCs in the bone marrow. This is the first example that bone marrow HSCs are under the critical control of systemic factors. The work is done by Mathew Decker, a graduate student in the lab and published in Science (Decker et al Science 2018). We continue investigating the mechanisms of how TPO maintains HSCs in the bone marrow.
We recently worked on a project regarding the role of N6-methyladenosine (m6A) in regulating HSCs. M6A is a methylation mark on mRNAs and plays important roles in a number of biological processes, by regulating gene expression epitranscriptioally. Heather Lee, a graduate student in the lab, investigated the role of m6A in regulating HSC function in vivo. She found that m6A regulates HSC but not downstream myeloid progenitor differentiation through regulating Myc. It is an exciting new finding as we show that HSC function is also under the control of epitranscriptional mechanisms. This work is in press at Nature Cell Biology.
What are the biggest accomplishments that your lab recently had?
We had our first few papers published recently. A few exciting projects are in the pipeline. Working with a group of talented people and finding something exciting in the field of hematopoietic stem cells is the biggest accomplishment of the lab. I feel that all of my trainees are trained well. Every time they did a good job (obtaining a fellowship, giving a great presentation, winning an award, etc), I felt I achieved something great. At the end of the day, training good people is the foundation of a good lab since good science will only come out of well-trained people.
Technology:
What are the model systems that your lab is using?
We use genetically modified mouse models to study HSCs. We have a number of cre lines that target distinct stromal populations within the bone marrow. They could be useful for other labs. We have been sharing them with other labs and are happy to continue doing so.
What are the key techniques that your lab is using? Are you open to training scientists from other labs?
We use transgenic technique to generate genetically modified mice. We also perform detailed analysis of HSCs in mouse models through flow cytometry and transplantation. Of course, we are open to training scientists from other labs.
What facilities or equipment does your absolutely lab rely upon? Do you use CSCI cores?
We depend heavily on flow cytometry. We use flow cytometers on a daily basis. I am glad that we have outstanding support at the flow cytometry facilities at Columbia, particularly the CSCI flow cytometry core managed by Mike. We study the functional mechanisms of HSC regulation by characterizing genetic modified mouse models. Thus, we also depend on transgenic service. Columbia has an outstanding transgenic core, where we have successfully generated several novel mouse models. In addition, we use confocal microsopes to perform extensive histology study on the hematopoietic tissues to examine the local microenvironment that supports HSCs. Columbia's confocal microscopy core has been providing excellent services and support. We are also looking forward to the new confocal microscope once we move into the new CSCI headquarter space!
Training:
What's your best approach to mentoring trainees in the lab?
Everyone is different. I try to tailor my mentoring style to each student. The goal is to help everyone to realize their scientific potential. I gradually let the students gain their independence over time: starting from doing experiments together with me or another senior member in the lab, to shadowing people, to performing independent experiments. We discuss a lot on technical details at the beginning to make sure that the student has a sound technical foundation. As their knowledge and experience grow, the discussion is largely about research directions rather than detailed techniques. My hope is that by the end of their training, everyone can think on their own feet, ask important questions, come up with creative solutions, execute the experiments, interpret the results and present the data in a compiling way. This will prepare them well for their next stage of scientific career.
Who were your most influential mentors/role models in science and what did you learn from them?
I am lucky to have interacted with a number of great scientists who showed me how science should be done. I was a graduate student with Min Han at the University of Colorado, Boulder. I learned from him that being fearless to new techniques and challenging questions will lead to breakthroughs. I was a postdoc with Sean Morrison at the University of Michigan and UT Southwestern. He showed me the importance of identifying important scientific questions and addressing them with the highest standard of rigor.
Can you recommend courses/lectures in Columbia University that would be most beneficial for students/postdocs?
The Stem Cell Course, as it showcases all of the cutting-edge research in the whole stem cell field.
What would be your career advice for students/postdocs?
Be passionate and try to find your interest in research. In the end, it is the interest and curiosity that really pushes us to above and beyond ourselves and make an impact in the field.
CSCI:
What was the main reason of you joining CSCI?
Stem cells are the passion and focus of my research. Being around other stem cell scientists of CSCI constantly teaches me new knowledge on these amazing cells. Attending various CSCI scientific activities also broadens the knowledge of my trainees. It gives us the opportunity for collaborations and exchange of ideas.
What do you plan to bring to the CSCI community?
CSCI is the community for us, the stem cell scientists. I enjoy participating the array of activities going on in CSCI. I will continue contributing the CSCI by providing mentoring to WIP presenters, organizing CSCI activities and any other ways that will help.
Lab management:
How do members of your lab celebrate accomplishments?
We go out to a restaurant or a bar to celebrate everyone's accomplishments (publishing a great paper, passing a qualifying exam, getting a grant or award). It makes everyone feel that they belong to a big family.
Does your lab have any fun traditions?
We go out once a while as a group to explore NYC and the surrounding area. We have been to the Met museum. That was a blast. We have been to a bowling place for a couple of times. We have gone to a fishing trip and a hike at the Bear Mountain. It is always fun to go out as a group!
Which stem cell conferences does your lab attend?
ISSCR meetings and New York Stem Cell Foundation meetings