CSCI Member Spotlight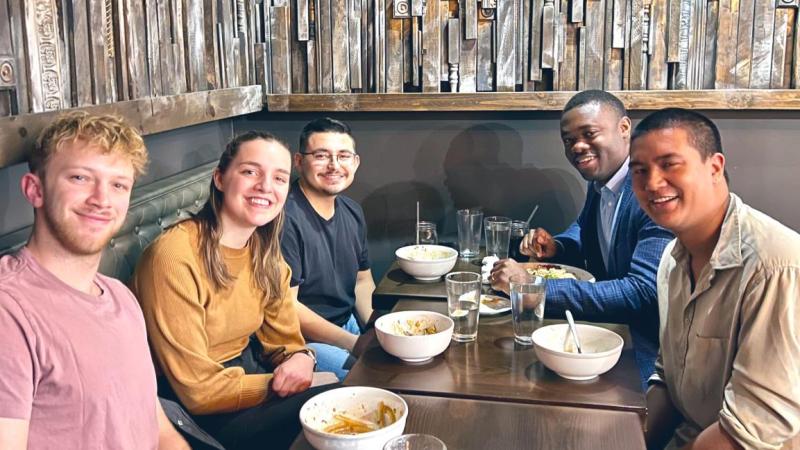 Each month, the CSCI Trainee Council will feature one of the CSCI member labs, and learn about their focus.
July 2023: Meet the Yvon Woappi Lab
Background:
What is the main focus of your lab?
Our lab investigates how various skin cells synchronize their activities to heal tissue damage at organ scale.
How long have you had your lab? When did you join Columbia University?
I started my lab in the fall of 2022.
How big is your lab currently?
We currently have 5 members in the lab, including 2 PhD students, 1 rotation PhD student, 1 rotation medical student, and 1 undergraduate BME student. We are still recruiting!
Where is your lab located?
We are located in the Russ Berrie Medical Science Pavillion
Current affairs:
What are the most exciting projects/directions in the lab at this moment?
We have three major research interests: 1) Using microphysiological systems (MPS) and computational frameworks to identify biophysical mediators of wound healing. 2) Characterizing systems-level immunological responses to wound injury. 3) Developing synthetic gene therapies for regenerative reprogramming of mammalian skin.
What are the biggest accomplishments that your lab recently had?
Our lab recently received Columbia's Data Science Institute 2023 Seed Fund, and we presented our work at the American Society of Cell Biology meeting in Washington, D.C.
Technology:
What are the model systems that your lab is using? 
Our lab uses skinoid models and microphysiological systems of wound healing mimicry. We also use computational modeling of cell-cell iteractions using spatial transcriptomic datasets. We also use various immune-defficient mice that are readily obtainable commercially.
What are the key techniques that your lab is using? Are you open to training scientists from other labs?
Our laboratory uses skin stem cell culture, scRNA-seq analysis, and multiparameter Flow Cytometry. We are open to training scientists from other labs.
What facilities or equipment does your lab absolutely rely upon? Do you use CSCI cores?
Our laboratory heavily relies on the histology and microscopy core. We are in the process of using the flow cytometry and stem cell core at CSCI.
Who shall be contacted with questions about equipment, resources and training?
Yvon Woappi directs the laboratory and is the best point of contact.
Training:
What's your best approach to mentoring trainees in the lab?
Our laboratory utilizes a trainee-focused approach to mentorship. We view the role of the lab as one that provides a scientific framework that trainees can use to advance their careers and reach their full scientific potential. This approach is based on a strength-based model of scientific development rather than a deficit remediation approach. In this model, attributes and existing skillsets possessed by each trainee are nurtured, rather than an emphasis on remediation of seemingly lacking attributes. This is grounded in the recognition that if a trainee is admitted into my lab, they have met the core competencies to be a successful scientist, thus the sole role of the lab is to create the intellectual working environment necessary to maximize their scientific potential.
Who were your most influential mentors/role models in science and what did you learn from them?
I've been fortunate to have had outstanding mentors throughout my career. My undergraduate research mentor, Dr. Om singh, was pivotal in propelling my interest in biomedical science. My PhD advisor, Lucia Pirisi, was all the more influential in my career path. I've learned so much from them. One of my post-doctoral advisors, Tom Kupper, thought me about the value of work-life balance. He was incredibly disciplined about making time for family and breaks.
Can you recommend courses/lectures in Columbia University that would be most beneficial for students/postdocs?
I've encouraged my lab to attend the Physiology seminar series, the CSCI seminars, and the BME Tissue Talks.
What would be your career advice for students/postdocs?
Take your ideas and ambitions seriously. No one can grant you permission to pursue your goals; they're your goals.
Are you accepting rotating students at the moment?
We are accepting trainees with an interests in regeneration science.
Lab management:
How do members of your lab celebrate accomplishments?
Our lab generally celebrates accomplishments by going out to eat somewhere fun. Every semester. We also have lab outings at the end of every semester.
Does your lab have any fun traditions?
So far, our fun lab tradition has been minigolfing.
What is the key to running a successful lab?
It is important to me to create a culture of intellectual humiligy, collegiality, and collaboration in the lab. We aim to create a team science environment where no one is afraid to genuinely say "I don't know".
What was the most exciting part about starting your new lab?
Working with students and uncovering the edge of science with them.
Stem Cell Directions:
What are the most important recent developments in the stem cell field?
There's a lot of exciting things currently happening in skin stem cell biology and skin regeneration. From the inovations in complex skin organoid cultures to new pre-clenical findings of anti-fibrotic drugs --  it's an exciting time to be studying the skin.
Which stem cell conferences does your lab attend?
We attend the American Society for Cell Biology meeting and the Gordon Research Conference on Tissue Stem Cell Regulation, as well as the International Societies for Investigative Dermatology Conference.
CSCI:
What was the main reason of you joining CSCI? What are the beneficial aspects of CSCI membership for your lab?
We're so delighted to be part of CSCI. We joined the CSCI for the opportunity to learn from the incredible faculty and student members of the CSCI, and for the opportunity to continually showcase and receive feedback for our work on skin regeneration.
What do you plan to bring to the CSCI community?
We bring a collegial spirit and a dynamism for tissue systems regeneration.
This blog is an initiative of the CSCI Trainee Council. If you want to feature your lab, please contact Vikas.(vm2616@cumc.columbia.edu)