December 2020: Smeeton Lab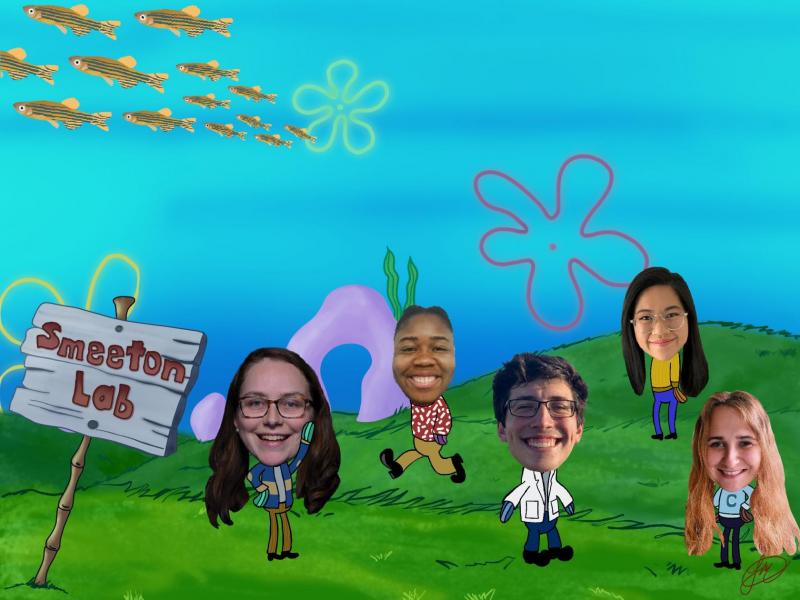 Background:
What is the main focus of your lab?
My lab uses zebrafish and its remarkable regenerative capacities to understand the stem cell populations and molecular underpinnings that drive regeneration of craniofacial joint cartilage and ligaments following injury. We are studying the fate decisions that direct progenitor cells to form mature joint tissues in zebrafish and use a combination of live imaging with single cell genomic and epigenomic analyses. In comparative studies between zebrafish and mammalian models, we're seeking to figure out why our joint tissues do not regenerate or heal with a scar. Our research has the ultimate goal of understanding and developing new treatments for complex joint diseases including arthritis and for acute musculoskeletal injuries.
How long have you had your lab? When did you join Columbia University?
I started the lab in January 2020. After the COVID-19 shutdown, our research has started to pick up momentum again especially with new lab members joining this fall.
How big is your lab currently?
We are currently 5 people – myself and 4 graduate students (1 PhD, 1 PhD rotation student and 2 MSc).
Where is your lab located?
The lab is located in the beautifully renovated Black 11th floor CSCI space (BB1110). Our fish facility is also in the Black Building.
Current affairs:
What are the biggest accomplishments that your lab recently had?
We recently generated the first of many new stable transgenic zebrafish lines to mark regenerating joint cell populations. We have also completed the optimization for some exciting new experiments to be performed in early 2021.
Technology:
What are the model systems that your lab is using? 
Our lab primarily uses zebrafish transgenic, mutant and injury models. We are always adding to our toolbox and we are actively making new zebrafish lines by transgenesis and CRISPR/Cas9-mediated mutation. We are happy to collaborate with other labs.
What are the key techniques that your lab is using? Are you open to training scientists from other labs?
Our lab uses classic developmental and molecular biology techniques like in situ hybridization in paraffin sections, immunofluorescence, embryo microinjection, and confocal imaging including time-lapse imaging of embryos, as well as modern genomics approaches including single cell RNA and single nuclei ATAC sequencing. We do all our own coding in R to analyze these single cell datasets. We would be happy to share protocols and train or advise other scientists starting out in any of these approaches.
What facilities or equipment does your absolutely lab rely upon? 
We rely on our zebrafish core facility – we are really grateful for the excellent staff who take incredible care of our animals every day. We also use the CSCI flow cytometry core. Mike, the flow core manager, was instrumental in optimizing the sorting of our very sensitive zebrafish cells.
Who shall be contacted with questions about equipment, resources and training?
Feel free to contact Joanna with any questions.
Training:
Who were your most influential mentors/role models in science and what did you learn from them?
Training in academia can be arduous and frustrating at times, so it's incredibly important to find your team. They don't even need to be in your lab. I was incredibly fortunate to have fanastic mentors for my PhD and Postdoc. Training at SickKids and the University of Toronto with my PhD mentor, Norm Rosenblum, taught me how to think through research questions, the importance of communicating our science, and how to keep perpective and persevere when you hit a road-block in research. I trained with a brilliant Postdoc mentor, Gage Crump, at USC Stem Cell and the Broad CIRM Center for Regenerative Medicine in Los Angeles. I learned everything I know about fish from my time in Gage's lab. He also taught me to think big and gave me the freedom to take risks with new questions and new techniques. Gage was a great model for inclusivity and collaboration both inside our lab and with labs from around the world. The zebrafish research community really fosters a sense of community and I plan to continue contributing to that spirit in my own lab. Finally, especially during my postdoc, I've had amazing peer mentors. Having a support network to talk through challenges and celebrate experimental wins has helped see me through the inevitable ups and downs in my training. Three talented female scientists that were also at the USC Broad CIRM Center as Postdocs and are now leading their own labs, Katie Galloway at MIT, Michaela Patterson at MCW, and Lindsey Barske at CCHMC, have been among my strongest supporters and beacons for me when applying for faculty positions and navigating starting my lab.
What would be your career advice for students/postdocs?
Follow your passion in research and try to pick up as many skills as you can along the way. The idea that every science job outside of academia is an 'alternative career' is a false framing that I think does a disservice to students/postdocs. If you look at the published job numbers and from my own experience with friends from my PhD, academia is really the 'alternative career' for PhD graduates. Whatever your path, find what you love to do and find mentors (formal or informal) who will support your goals. There are so many careers that are satisfying and that will flex your scientific brain power outside of academic labs. That being said, if your goal is to stay in academia, don't be dissuaded by the dire job numbers – follow your passion. My mantra throughout my training was that I'll keep doing academic research as long as I am able to and I'm so grateful to now be running my own lab.
Are you accepting rotating students at the moment?
Yes
Lab management:
Does your lab have any fun traditions?
Our lab has never all been in the same room together (see our lab photo for us 'schooling' together). Once the pandemic is over, I have plans for elaborate future lab Halloween costumes and lab outings/dinners/parties/retreats. This year, for our first Smeeton lab holiday party we'll be trying to defeat an online escape room together.
What is the key to running a successful lab?
I support my lab members with open communication and a strong lab culture of accountability, inclusivity, rigor and encouragement.
What was the most exciting part about starting your new lab?
For me, I am the most excited about mentoring trainees, seeing that next hot-off-the-confocal piece of data, and finding out the answers to scientific questions that keep me up at night. As a new PI, I'll never forget the excilerated feeling I felt after our first (virtual) group lab meeting. I love this job.
CSCI:
What was the main reason of you joining CSCI? What are the beneficial aspects of CSCI membership for your lab?
CSCI is home to brilliant collegial scientists, wonderful resources, and outstanding trainees in one of the best cities in the world. What more could you want in a scientific home?!