September 2020: Xu Lab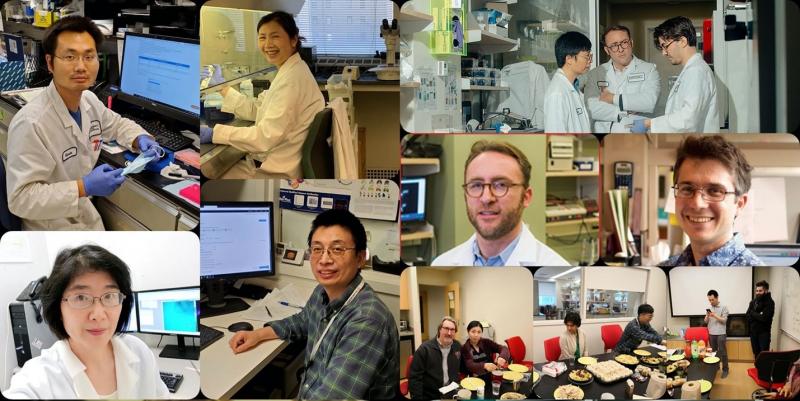 Background:
What is the main focus of your lab?
Determining the roles of rare genetic mutations in pathophysiology of major neuropsychiatric disorders by using patient derived induced pluripotent stem cells (iPSC) based disease model and what are the potential therapeutically targeted in these conditions.
How long have you had your lab? When did you join Columbia University?
My lab was established in 2014 laboratory together with Dr. Sander Markx in the Department of Psychiatry
How big is your lab currently?
Currently, we have 7 members.
Where is your lab located?
Our lab is located in the New York State Psychiatry Institute, 1051 Riverside Dr, the Pardes Building the 3rd floor
Current affairs:
What are the most exciting projects/directions in the lab at this moment?
We are very excited about establishing patient iPSC derived brain organoid models to understand disease mechanisms and potential drug targets. We previously identified some critical candidate genes for major neuropsychiatry disorders by next generation sequencing and obtained various patient derived iPSC samples. We are optimizing a microphysiological system for brain organoid culture and studying the cellular and molecular mechanisms of top candidate loci of schizophrenia and autism.
Technology:
What are the model systems that your lab is using? 
Our major model systems are patient derived brain organoids. We perform 3D immunostaining and imaging analysis, neuronal morphological analysis, bulk and single cell RNA sequencing. 
What facilities or equipment does your absolutely lab rely upon? 
Cell culture hoods and incubators, confocal microscope, epifluorescent microscope. Yes, we have collaboration with the CSCI stem core and FACS core.
Who shall be contacted with questions about equipment, resources and training?
Please contact me, Bin Xu bx2105@cumc.columbia.edu
Training:
What's your best approach to mentoring trainees in the lab?
I think the best approach is to stimulate the strong interest of the trainees followed detailed scientific discussion of how to materialize the scientific questions into experiment designs and result interpretations. It is important to learn from each other.
Who were your most influential mentors/role models in science and what did you learn from them?
Francis Crick and Syndey Brenner. How to conduct critical thinking and the way to establish models to address important scientific questions.
What would be your career advice for students/postdocs?
Stay hungry, Stay foolish
Are you accepting rotating students at the moment?
Yes, please contact me at bx2105@cumc.columbia.edu
Lab management:
How do members of your lab celebrate accomplishments?
Party time
What is the key to running a successful lab?
Exploring …
Stem Cell Directions:
What are the most important recent developments in the stem cell field?
The most important development recently is know how to reprogram the somatic cells back to stem cell state.
Which stem cell conferences does your lab attend?
The New York Stem Cell Foundation Annual Conferences
CSCI:
What was the main reason of you joining CSCI? What are the beneficial aspects of CSCI membership for your lab?
To exchange ideas and new technologies among the community.