August 2022: Serge Przedborski Lab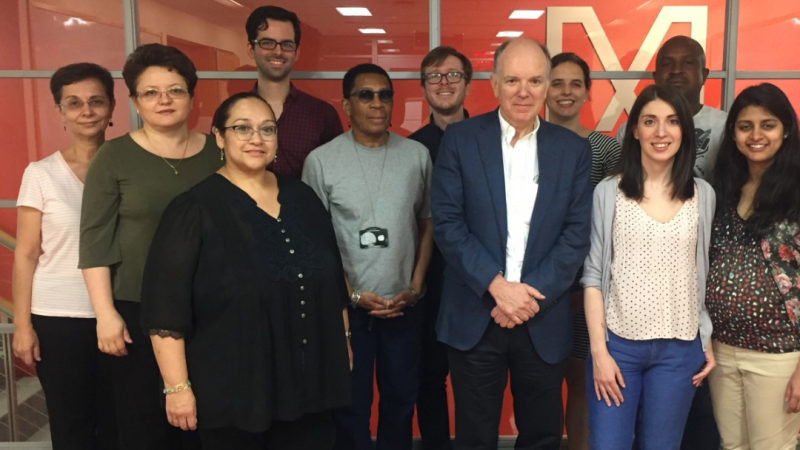 Background:
What is the main focus of your lab?
The research conducted in the Przedborski Lab is geared towards unraveling and understanding the molecular basis of neurodegeneration, along with devising therapeutic strategies to hamper the processes that cause neuronal death, which is a source of several debilitating disorders.
How big is your lab currently?
Our lab currently consists of 10-15 people including summer students and candidates for PHD programs from multiple countries.
Where is your lab located?
The lab is currently located in the Vagelos College of Physicians & Surgeons building on Columbia's medical campus. We are on the 5th floor, room 5-401.
Current affairs:
What are the most exciting projects/directions in the lab at this moment?
Several main research projects in our lab focuses on the molecular and cellular biology of neurodegenerative disorders such as Parkinson's disease (PD) and Amyotrophic Lateral Sclerosis (ALS), and the discovery of neuroprotective biomolecules against Chemotherapy-Induced Peripheral Neuropathy (CIPN). We are also investigating the contributions of cell-autonomous and non cell-autonomous mechanisms of neurodegeneration through the use of both toxic and genetic experimental models of PD and ALS.
Technology:
What are the model systems that your lab is using? 
Animal models for ALS disease with G93A mutation of Superoxide dismutase-1 (SOD1), Parkinson disease induced with different toxic agents such as MPTP, rotenone, paraquat as well as transgenic animal models with overexpression of alpha-synuclein protein.
What are the key techniques that your lab is using? Are you open to training scientists from other labs?
Our lab developed and widely uses different cell culture models derived from mouse embryonic stem cells (ES), human immunopluripotent stem cells (iPS) to study neurodegenerative disorders (ALS, PD, CIPN), cell-autonomous and non cell-autonomous mechanism of death using motor neurons, astrocytes, and microglia respectively. We developed cell culture-based platforms of motor neurons from spinal cords of embryonic mice E12.5 and dorsal root ganglia (DRG) sensory neurons from adult mice, as well as ES, and iPS cells for the discovery of biomolecules with neuroprotective effects against a variety of chemotherapeutics.
What facilities or equipment does your lab absolutely rely upon? Do you use CSCI cores?
Our lab relies on equipment in CSCI core facilities including, Flow Cytometry Core Facility, Sulzberger Columbia Genome Center, Confocal and Specialized Microscopy, Chemical Probe Synthesis Facility, and Columbia Nano Initiative-Electron Microscopy. In the lab, we use confocal and epifluorescent microscopes, single cell capture imaging systems, CX7 imaging systems, cryostats, vibratomes, PCR and qPCR machines, and equipment for western blotting.
Who shall be contacted with questions about equipment, resources and training?
James Caicedo, Irina Utkina-Sosunova, Peter Barbutti.
Training:
Can you recommend courses/lectures in Columbia University that would be most beneficial for students/postdocs?
Neuroscience, Neuromodulation.
What would be your career advice for students/postdocs?
Use as many opportunities as possible to join different programs and research laboratories to find your passion in life!
Are you accepting rotating students at the moment?
Yes.
Lab management:
How do members of your lab celebrate accomplishments?
We typically announce accomplishments at our lab meetings and support our members' efforts and continued success, usually with lots of cheers!
Does your lab have any fun traditions?
Every year, we participate in a holiday gift exchange in December before people go away for Christmas and New Year. We also host a potluck holiday party for all the labs at Motor Neuron Center.
What is the key to running a successful lab?
Communication is key. If there is an issue, speak up! Honesty is also the best policy, especially in science.
What was the most exciting part about starting your new lab?
The most exciting part is meeting and working with people from all over the world.