February 2021: Embree Lab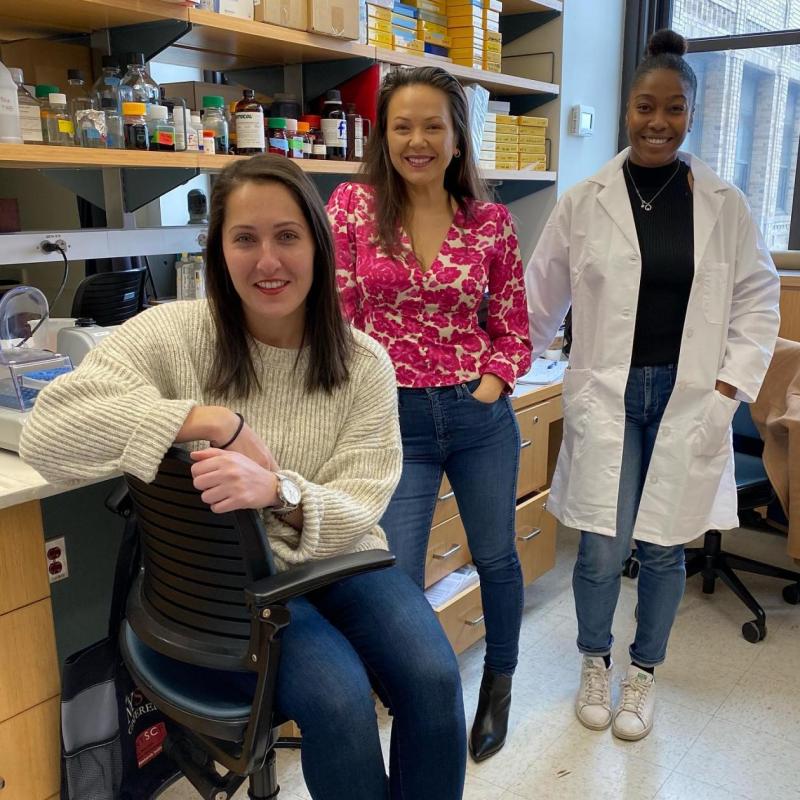 Background:
What is the main focus of your lab?
My translational research focuses on cartilage biology and osteoarthritis, adult stem cells and tissue regeneration.  We discovered jaw-specific, adult fibrocartilage stem cells (FCSCs) that regenerate cartilage and vascularized bone.  We focus on Wnt regulation of FCSCs and developing minimally invasive, stem cell-based therapies for TMJ and cartilage regeneration.  To test our novel therapies, we have developed TMJ osteoarthritis animal models using both rabbits and preclinical, miniature pigs.
How long have you had your lab? When did you join Columbia University?
I am a dentist scientist and started at Columbia University in August 2010 as a post doc and as an assistant professor in dental medicine.I received the Dentist Scientist K99/R00 Award and started my independent lab in 2015, while simultaneously completing my residency training in orthodontics in 2018. I received my first R01 in 2019.
How big is your lab currently?
We have 1 staff associate scientist and a technician. We just hired two new post docs that are in the midst of on-boarding and are always looking to expand our team.
Where is your lab located?
We are a part of the College of Dental Medicine and our lab is located in P&S16-440.
Current affairs:
What are the most exciting projects/directions in the lab at this moment?
My lab has focused on the development of a minimally invasive, cartilage regenerative therapy that alleviates pain and restores joint function. To achieve this goal, work in my lab is organized into 3 programmatic themes: 1) Define fibrocartilage stem cells, their niche, and the signals critical for regulating their fate; 2) Develop preclinical, large animal models for testing cartilage regenerative therapiesl; 3) Develop minimally invasive, drug delivery technologies for cartilage regeneration.  Our lab has been at the forefront of the cartilage field where we were the first to identify fibrocartilage stem cells in the jaw joint; discovered that Wnt signaling is crucial for regulating fibrocartilage stem cells; and developed a minimally invasive cartilage regenerative therapeutic called StemGELTM that modulates local fibrocartilage stem cells to regenerate cartilage. We are well positioned to be the first to develop an FDA-approved minimally-invasive TMJ cartilage regenerative therapy.
What are the biggest accomplishments that your lab recently had?
We have recently received NIH Phase II STTR funding to further develop the first, minimally invasive TMJ cartilage regenerative therapy called StemGELTM.The TMJ connects the jaw to the craniofacial complex. The temporomandibular joint (TMJ) is the most frequently used joint in human body. It is a complex joint system critical for dental occlusion, mastication, and speech. The TMJ is comprised of a network of muscles, ligaments, and a fibrocartilaginous disc and condyle. TMJ osteoarthritis (OA) is debilitating and compromise quality of life.  The symptoms of TMJ OA are pain and low grade inflammation, restricted jaw movements, jaw growth defects, and facial asymmetry. TMJ diseases afflict over 10 million Americans at an annual cost of ~$4 billion.  Current treatments for TMJ OA are typically two-fold extremes, involving either pain management or invasive surgeries, including total joint replacements with high failure rates.
Exploiting the regenerative capabilities of resident stem cells to repair TMJ tissues represents a minimally invasive stem cell-based treatment for TMJ OA.  We have identified TMJ fibrocartilage stem cells (FCSCs) that reside in the TMJ condyle superficial zone.  My lab, in collaboration with Dr. Mo Chen, founder of Wnt Scientific LLC, have defined the signals regulating FCSCs' fate and co-developed StemGEL, a breakthrough, minimally invasive TMJ OA regenerative therapy that will alleviate pain, reduce inflammation and restore joint function. 
StemGEL formula combines stem cell signaling modulator, sclerosting (SOST), which induces local stem cells to regenerate cartilage and reduces inflammation, and a hydrogel carrier that sustained-releases SOST. StemGEL is pre-packed in a syringe and will be shipped to hospitals and dental offices. StemGEL-TMJ offers the following advantages over other treatments: 1) Administered chairside during routine dental visits with no down time; 2) Delivered locally to reduce inflammation and stimulate natural regenerative process; 3) Alleviates joint pain and restores jaw function, so patients can comfortably eat and speak.
Technology:
What are the model systems that your lab is using? 
Our work spans multiple model species to address our research questions.  We work on genetic mouse models typically bought from jax for foundational questions. We also perform craniofacial surgery on Sprague dawley rats, adult New Zealand white rabbits and miniature pigs. We have optimized histological protocols for less commonly used species, such as rabbits and pigs and we are currently sequencing cartilage/bone tissue from rabbits and pigs.  We also have a collection of pathological human cartilage samples that were discarded as surgical waste, including whole tissue and isolated cells that we also study as part of our therapeutic product development.
What are the key techniques that your lab is using? Are you open to training scientists from other labs?
Mouse embryonic lineage tracing, mouse genetics, rabbit and pig craniofacial surgery, dentistry, biomechanical testing of musculoskeletal tissue, adult primary stem/progenitor cell culture, ectopic transplantation models, single cell isolation, histomorphometry.
Yes we are open to training.
What facilities or equipment does your absolutely lab rely upon? Do you use CSCI cores?
We rely heavily on the molecular pathology histology core for sectioning and CCTI for flow cytometry. We have an Olympus IXplore Pro inverted microscope with automated, multidimension capabilities that we use daily.
We do not use CSCI core but we would like to!  I would love a tour of the facility if possible.
Who shall be contacted with questions about equipment, resources and training?
You can contact the PI at mce2123@cumc.columbia.edu
Training:
What's your best approach to mentoring trainees in the lab?
My approach to mentorship is to empower my mentees to the point where they feel as sense of ownership over their projects. This comes with assigning projects that captures their current skillsets and also helps them build a new repertoire of untapped talents. My mentees learn by doing and gaining independence. Experiments are like recipes that they must perfect using their own hands-on experiences.
What would be your career advice for students/postdocs?
I am a dentist clinician/scientist and have successfully completed an F award, K99/R00 and then move to my independent R.  Im currently serve as a standing member of an NIH/NIDCR committee (DSR) that solely reviews F and K awards.  After reviewing F and K awards, my advice is to always have a solid career plan and to know where you want to land next. For clinician scientists, its important to have a solid post doc training and to surround yourself with basic science mentors to leverage your translational work.
Are you accepting rotating students at the moment?
YES!
CSCI:
What was the main reason of you joining CSCI? What are the beneficial aspects of CSCI membership for your lab?
The College of Dental Medicine is a small school, and my goal in joining CSCI is  to expand my collaborations across CSCI labs and also across Columbia campus in general.  I am also eager to learn about cutting edge research across CSCI labs.
What do you plan to bring to the CSCI community?
I plan on bringing new expertise and resources in craniofacial growth and development, dentistry, and cartilage biology.