May 2021: Chahine Lab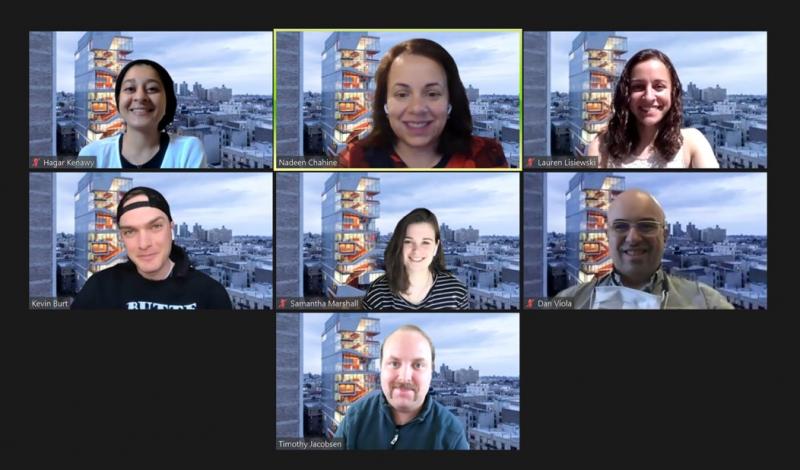 Background:
What is the main focus of your lab?
We study musculoskeletal degeneration and regeneration in the spine, primarily intervertebral disc. Through collaborations, we also do research on spinal ligaments and articular joints.
How long have you had your lab? When did you join Columbia University?
I joined Columbia University as faculty in 2017. But my earliest days at Columbia date back to early 2000's when I was a graduate student in the Biomedical Engineering Department. I then went on to do a post doc as a Lawrence Fellow at Lawrence Livermore National Lab in California. Before coming to Columbia as a faculty member, I was a PI at the Feinstein Institute for Medical Research which is part of Northwell Health.
How big is your lab currently?
The standing members of the lab are 4 PhD students from the biomedical engineering department, 1 post doctoral fellow and 1 visiting surgeon. At times we've had undergraduates or M.S. students in the lab as well. This summer we have 2 M.D. students and a resident doing research rotations.
Where is your lab located?
We are on the 14th floor of the Black Building (part of the Carroll Laboratories for Orthopedic Surgery).
Current affairs:
What are the most exciting projects/directions in the lab at this moment?
In what took about one year, in the midst of a once-in-a-lifetime pandemic, we started from a completely empty space on an unoccupied floor and built what is now a fully equipped stem cell lab, comprising a vibrant and talented group of eleven researchers producing exciting results every day. I'll call that a major accomplishment.
What are the biggest accomplishments that your lab recently had?
Despite the difficult year 2020 was, we were so happy to publish this study on disc cell mechanobiology and inflammation in Science Advances. This was a true team effort by co-first authors Tim Jacobsen (graduate student) and Paula Hernandez (a former post doc).
Actomyosin contractility confers mechanoprotection against TNFα-induced disruption of the intervertebral disc
By Paula A. Hernandez, Timothy D. Jacobsen, Nadeen O. Chahine. Science Advances19 Aug 2020 : Eaba2368
Rho Rho Rho your cells: Increased RhoA activity protects intervertebral disc from TNFα-induced degradation.
Technology:
What are the model systems that your lab is using? 
We work both with in vitro organ culture models and in vivo model systems. We are examining the role of inflammation (specifically HMGB1 knock out and IkkB overactivation) in aggrecan-CreERT driven mice. We also use rat surgical models for more translational or therapeutic studies. We have excellent in vitro loading bioreactors to apply deformationor hydrostatic pressure to cells and tissues.
What are the key techniques that your lab is using? Are you open to training scientists from other labs?
We use a technique called atomic force microscopy to evaluate nano level cell or tissue mechanics and topography across surfaces. It's a very powerful but low throughput technique. The instrumentation requires technical expertise, so it's not a technique we would allow others to use, but we are open to collaborations in certain areas/topics.
What facilities or equipment does your absolutely lab rely upon? Do you use CSCI cores?
We love the CSCI cores and appreciate the excellent technical support and related educational value. We are users of the flow cytometry core, including the imaging flow cytometry system.
Who shall be contacted with questions about equipment, resources and training?
Me- Nadeen Chahine
Training:
What's your best approach to mentoring trainees in the lab?
I learned early on that mentoring is not a one size fits most type of activity. My approach is to personalize the experience to the mentees needs. Some want more oversight, while others need more freedom. I try to find that balance for each trainee while making sure they are growing and progressing in the training program.
Who were your most influential mentors/role models in science and what did you learn from them?
Ahh- there are so many. To mention a few- of course my PhD advisors Clark Hung and Gerard Ateshian have had a profound impact on my learning and training- they taught me how to approach scientific problems, combining experimental and theoretical approaches. They taught me how to be a good role model. They also taught me the concept of not putting all your research eggs into 1 basket, because you can't often predict which projects will bear the most exciting fruit. There are far too many people who's research inspire me to mention here. But I would like to mention that my current division head, Steve Thomopoulos, is an outstanding role model for faculty, and I've really enjoyed working alongside him since joining Columbia Orthopedic Surgery. As a women in science, I'd be remiss not to mention the many colleagues who play critical roles as female peer mentors, giving advise and acting as a sounding board to the many speed bumps we face in our career.
Are you accepting rotating students at the moment?
Yes, for the fall 2021 or beyond.
Lab management
How do members of your lab celebrate accomplishments?
We used to go out for lunches or drinks or just eat cake in the conference room. Now we try do fun things virtually. I'm hoping we can do something in person this summer.
Does your lab have any fun traditions?
Again, pre Covid- we had a summer outing each year. We've done picnics, mini golf, volleyball games, ferry rides etc.
What is the key to running a successful lab?
The key skills in my view are: patience, organization, vision and ability to make difficult decisions about project directions, good communication, being respectful and professional with everyone you interact with.
What was the most exciting part about starting your new lab?
For me it was a sort of homecoming to move my lab to Columbia. I also benefited from having a few members of my research team move with me. That made the transition much smoother.
CSCI:
What was the main reason of you joining CSCI? What are the beneficial aspects of CSCI membership for your lab?
The facilities and outstanding leadership of our CSCI Director. I enjoy attending the faculty meetings and learning about the incredible cutting-edge research. We are growing in our stem cell research and enjoy being part of this community.