June 2020: Meet the Tsang Lab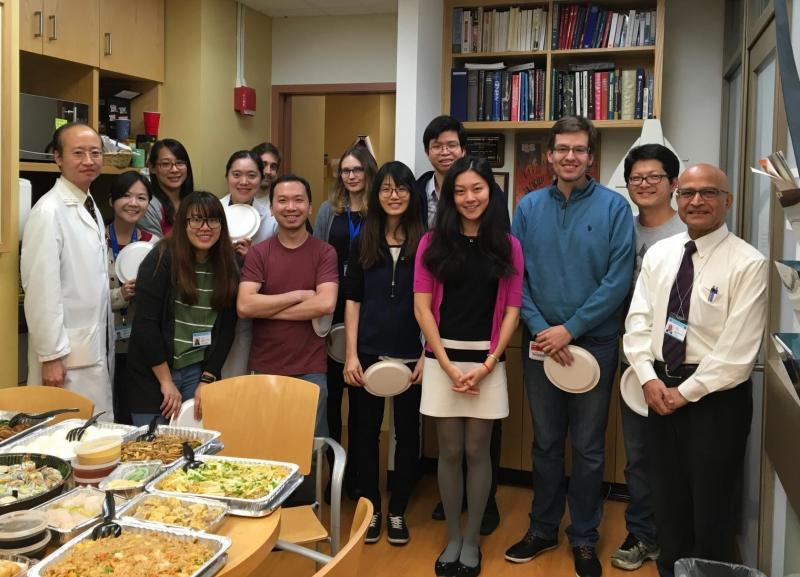 Background
What is the main focus of your lab?
Patient specific stem cells as recipients of gene therapy;Reprogramming metabolome of the stem cell niche.
 How long have you had your lab? When did you join Columbia University?
I joined Columbia in 1989, and founded the Barbara & Donald Jonas Stem Cell Laboratory in 2006.
How big is your lab currently?
We currently have 4 graduate students, 7 post docs, 1 fellow, 3 medical students, and 4 other essential staff members.
Where is your lab located?
Edward S. Harkness Eye Research Addition, 5th Floor, Room 513
Current affairs
What are the most exciting projects/directions in the lab at this moment?
Live imaging of stem cell transplants and host integrations
What are the biggest accomplishments that your lab recently had?
We have successfully reprogrammed fibroblast cells from normal human and patient donors into Induced pluripotent stem (iPS) cells. Using CRISPR gene therapy strategies developed in our lab, we corrected the pathogenic mutations in patient-derived iPS cells to generate isogenic controls. The diseased, corrected, and health iPS cells were subsequently differentiated them into retinal pigment epithelium (iRPE). Subsequent transplantation of the iRPE into the subretinal space of an RP mouse model generated stable grafts in the host retina that appeared to integrate seamlessely with host RPE. Accordingly, host retinas exhibited significant and long-term rescue of retinal function. This is just one of the novel therapeutic strategies we have developed in our lab. Altogether, our lab has successfully treated preclinical models of Pde6a, Pde6b, Mfrp (Membrane Frizzled-Related Protein), Rho, Cngb1 and autosomal recessive bestrophin retinopathies. Moreover, a PhD student thesis, developed in our lab, is about to be translated into a FDA trial.
Technology
What are the model systems that your lab is using?
--Patient specific stem cell lines and organoids;
--Rod photoreceptor specific Pde6g::CreERT2 mouse line;
--Rod photoreceptor specific Pde6b::spCas9 mouse line;
--Cone specific X-linked arrestin CreERT2 mouse line;
--Retinal pigment epithelial cell specific inducible Cre driver.
What are the key techniques that your lab is using? Are you open to training scientists from other labs?
Live animal imaging; metabolomics; TALEN- & CRISPR- genome engineering; AAV- and lentiviral- mediated gene transfer
We always welcome the opportunity to collaborate with other labs.
What facilities or equipment does your lab absolutely rely upon? Do you use CSCI cores?
Nucleofector in CSCI core
Who shall be contacted with questions about equipment, resources and training?
Myself, or Chun-Wei Hsu cwh2118@cumc.columbia.edu
Training
What's your best approach to mentoring trainees in the lab?
Introduction with shadowing;
hands-on work assisting ongoing projects;
open-door policy;
development of independent project (initially followed for any necessary guidance);
One-on-one meetings with mentor;
provides every possible opportunity for trainees to present their research in local meetings and national/international conferences
Who were your most influential mentors/role models in science and what did you learn from them?
Prof Victor A. McKusick built the scientific confidences of his trainees, including myself. As a mentor, he promoted the independence of his trainees for e.g. by getting them selected for lecturships at international conferences.
Can you recommend courses/lectures in Columbia University that would be most beneficial for students/postdocs?
BMEN E6510 Stem Cells, Genome Engineering and Regenerative Medicine
What would be your career advice for students/postdocs?
A passion and drive for research is always key; persistant work on essential skills e.g. grant review/composition; if English is a second language, "Academic Research Writing for International Researchers" is an excellent resource at the Teachers College
Are you accepting rotating students at the moment?
Yes.
Lab management
How do members of your lab celebrate accomplishments?
Autographing champagne bottles; catered lunch and/or dinner; celebratory cake!
Does your lab have any fun traditions?
Extended Cold Spring Harbor trips; outdoor catered celebrations; decorating the lab for holidays
What is the key to running a successful lab?
A collaborative and supportive environment; identifying high-risk but high pay-off projects to be funded by grateful patients.
What was the most exciting part about starting your new lab?
Finally having the ability to provide resources for students/fellows to follow their passion and encougage them to remain curious.
Stem Cell Directions
What are the most important recent developments in the stem cell field?
FDA stem cell transplantation trial for macular degeneration.
Which stem cell conferences does your lab attend?
American Society for Gene & Cell Therapy; New York Stem Cell Foundation annual conference; Association for Research in Vision and Ophthalmology; American Society for Clinical Investigation.
CSCI
What was the main reason of you joining CSCI? What are the beneficial aspects of CSCI membership for your lab?
This cohesive group full of interdisciplinary colleagues makes it a engaging environment in which to take part.
What do you plan to bring to the CSCI community?
A group of brilliant researchers and scientists with an extensive background working with stem cells from patients with rare monogenic retinal disorders.