Members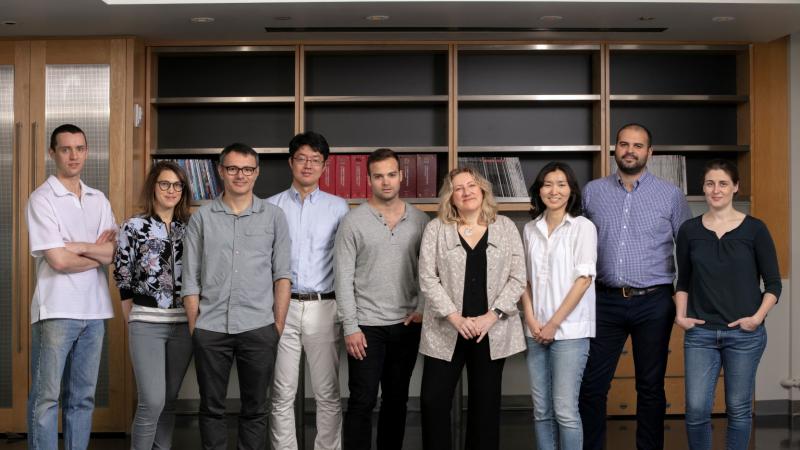 Faculty
Amélie Collins, MD, PhD

Dr. Collins received her MD and PhD degrees from New York University School of Medicine. Her graduate studies with Dr. Dan Littman focused on the regulation of gene expression during T cell development. She then moved to Columbia University Medical Center for Pediatrics Residency and Neonatal-Perinatal Fellowship. During that time, she pursued postdoctoral work in the lab of Dr. Steven Reiner, investigating human fetal natural killer cell development. Dr. Collins recently became an Assistant Professor in Pediatrics with clinical responsibilities in the Neonatal Intensive Care Unit, and joined the Passegué lab for a second postdoctoral fellowship. Her research is focused on evaluating the biology of hematopoietic stem and progenitor cells in the fetus and newborn, during normal development and in response to inflammation and infection, with the goal of improving our understanding of the pathogenesis of many conditions seen in the neonatal period.
Postdoctoral Fellows
Yoon A Kang, PhD

Postdoctoral Research Fellow

Yoona earned her BA in Biology at Yonsei University, Seoul, Korea. During her Master's degree in the laboratory of Dr. Chae-ok Yun, she developed a novel anticancer therapy using an artificial transcription factor targeting VEGF promoter and oncolytic adenovirus. For her PhD training, she joined the laboratory of Dr. Emery Bresnick at the University of Wisconsin, Madison where she studied how the GATA factor pathway regulates erythropoiesis. Yoona graduated in June of 2013 and then joined the laboratory of Dr. Emmanuelle Passegué to start her postdoctoral training. Her current research projects focus on characterizing the biology of novel multipotent progenitor (MPP) populations in physiological and pathophysiological conditions. When not in the lab, she enjoys the outdoors and museums.

Oakley Olson, PhD

Postdoctoral Research Fellow

Oakley received his B.S. in biochemistry and molecular biology from Brown University in 2006. He then worked as a technician at Stanford University in the lab of Steven Foung, investigating humoral immune response to HCV and H5N1. From this experience, Oakley developed a keen interest in studying disease pathogenesis and moved on to Memorial Sloan Kettering Cancer Center, where he received his Ph.D. in 2016. There he worked in the lab of Johanna Joyce studying tumor-myeloid interactions, specifically the role of tumor-associated macrophages in chemoresistance and obesity-associated neutrophilia in promoting breast to lung metastasis. In 2018 Oakley Joined the Passegué lab where he is now investigating how stress dynamically alters myeloid progenitors to increase the output of specific mature populations. Combining single-cell RNA sequencing expression analysis, lineage tracing, single-cell differentiation assays, and immunofluorescence of the bone marrow microenvironment his research seeks to identify the mechanisms by which emergency myelopoiesis alters developmental trajectories and how this contribute to phenotypic heterogeneity in the mature myeloid compartment. Given that aberrant myelopoiesis is implicated in the pathogenesis of many diseases, from cardiovascular disease to cancer, understanding these regulatory mechanisms has significant translational potential.

James Swann, DPhil

Postdoctoral Research Fellow

James qualified as a veterinarian from the University of Cambridge in 2010 before completing his residency in small animal internal medicine at the Royal Veterinary College in London to become board-certified in 2016. He then completed his doctoral studies at the Kennedy Institute of Rheumatology, University of Oxford, investigating the impact of chronic inflammatory arthritis on hematopoiesis, and received his DPhil in 2020. He has joined the Passegué lab to develop his current interest in the intersection of emergency myelopoiesis mechanisms and development of leukemia.
Students
Paul Dellorusso

Paul grew up on Long Island and earned his bachelor's degree in Molecular and Cellular Biology from Dartmouth in 2012. Following graduation, he spent four years working in biotechnology venture capital, business development, and management consulting roles in San Francisco and Boston. In 2016, he entered the Integrated Program in Cellular, Molecular, and Biomedical Studies at CUIMC, and joined the Passegué lab thereafter. Paul is researching mechanisms of HSC aging, studying molecular processes that can be targeted to promote functional longevity of the hematopoietic system and forestall age-related diseases.

Carl Mitchell

Carl earned a B.A. in biochemistry and a B.M. in jazz performance from Oberlin College & Conservatory in 2015. He then spent three years as a research assistant in Gunter Blobel's laboratory at The Rockefeller University, an experience which confirmed his passion for biological research and inspired him to pursue his doctoral studies here at CUIMC. Since joining the Passegué lab in 2019, his work has focused on investigating the functional decline of hematopoietic stem cells with age. Specifically, he hopes to further characterize pathways implicated in features of DNA damage and replication stress observed in old HSCs.
Staff
Mittsu Sarmago

Research Associate/Lab Manager

Mittsu received her BS and MS degrees in molecular biology and biotechnology from the University of the Philippines. She then moved on to study molecular mechanisms of cell fate determination in CNS development at Osaka University for a few years before joining the Passegué Lab in 2020. She hopes to open up her field of view to the many ways people pursue scientific exploration.

Jenny Perez Bruno

Jenny earned a B.A in Biology, two minors in Psychology, and Spanish literature from The City College of New York in 2018. She spent six months as an undergraduate researcher in Patricia Morris laboratory at The Rockefeller University, a significant experience that influenced her to pursue a career in biological science. As well as took part as a Teacher assistant at LaGuardia Community College for five years. She did a two years fellowship as an undergraduate at The Graduate Center of the City University of New York. She joined the Passegué lab in 2019, her work consists of assisting Postdoctoral Researchers fellows, faculty and PhD students in the lab, which has inspired her to pursue a career in biological research/ medical school.

Chandani Patel

Originally from Chicago, Chandani earned her B.S. in Biomedical Sciences at The University of South Florida and her M.S. in Human Nutrition at Columbia University. During her time at Columbia, she studied the relationship between olfaction and taste in Dr. John Glendinning's lab at Barnard College. Chandani joined the Passegué Lab in 2020, where she works with Dr. Amélie Collins in studying the biology of hematopoietic stem cells and progenitor cells in fetuses and newborns during normal conditions and in response to inflammation. Chandani hopes to apply to graduate school and obtain a PhD in the upcoming years.