Members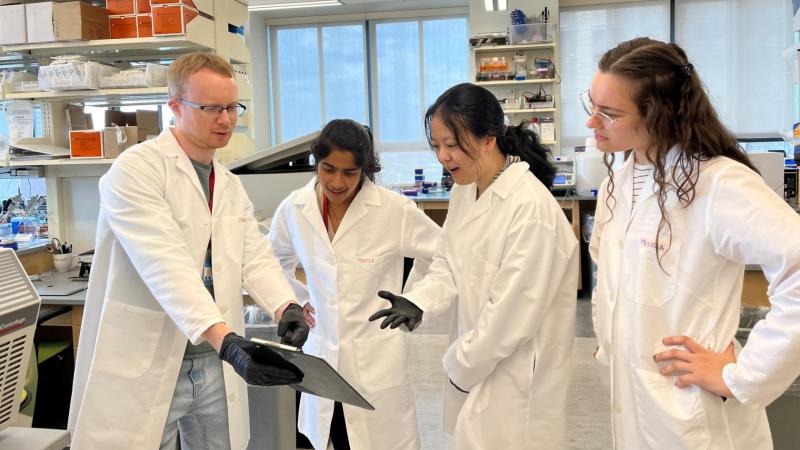 Faculty
Amélie Collins, MD, PhD

Dr. Collins received her MD and PhD degrees from New York University School of Medicine. Her graduate studies with Dr. Dan Littman focused on the regulation of gene expression during T cell development. She then moved to Columbia University Medical Center for Pediatrics Residency and Neonatal-Perinatal Fellowship. During that time, she pursued postdoctoral work in the lab of Dr. Steven Reiner, investigating human fetal natural killer cell development. Dr. Collins recently became an Assistant Professor in Pediatrics with clinical responsibilities in the Neonatal Intensive Care Unit, and joined the Passegué lab for a second postdoctoral fellowship. Her research is focused on evaluating the biology of hematopoietic stem and progenitor cells in the fetus and newborn, during normal development and in response to inflammation and infection, with the goal of improving our understanding of the pathogenesis of many conditions seen in the neonatal period.
Postdoctoral Fellows
Monica Kasbekar, MD PhD

Postdoctoral Clinical Fellow

Monica received her B.S. in chemistry from the University of Virginia in 2010. She then received her Ph.D. from the University of Cambridge and the National Institutes of Health in 2016 as an NIH-Oxford-Cambridge Scholar. During her doctoral work, she trained with Professor Chris Abell and Dr. Craig Thomas to identify and characterize small molecule inhibitors of the Mycobacterium tuberculosis fumarate hydratase. She also worked with Dr. Louis Staudt at the NCI, using genome-wide CRISPR-Cas9 screens to identify mechanisms of response and resistance to ibrutinib in diffuse large B-cell lymphoma. She then received her M.D. in 2018 from Washington University in St. Louis, where she was a member of the Medical Scientist Training Program. She completed her residency in Internal Medicine at Massachusetts General Hospital in 2020, before moving to Columbia University Irving Medical Center for fellowship in Medical Oncology. She joined the Passegué lab in 2022 to investigate the mechanisms that drive clonal hematopoiesis in the aging bone marrow niche.

Oakley Olson, PhD

Postdoctoral Research Fellow

Oakley received his B.S. in biochemistry and molecular biology from Brown University in 2006. He then worked as a technician at Stanford University in the lab of Steven Foung, investigating humoral immune response to HCV and H5N1. From this experience, Oakley developed a keen interest in studying disease pathogenesis and moved on to Memorial Sloan Kettering Cancer Center, where he received his Ph.D. in 2016. There he worked in the lab of Johanna Joyce studying tumor-myeloid interactions, specifically the role of tumor-associated macrophages in chemoresistance and obesity-associated neutrophilia in promoting breast to lung metastasis. In 2018 Oakley Joined the Passegué lab where he is now investigating how stress dynamically alters myeloid progenitors to increase the output of specific mature populations. Combining single-cell RNA sequencing expression analysis, lineage tracing, single-cell differentiation assays, and immunofluorescence of the bone marrow microenvironment his research seeks to identify the mechanisms by which emergency myelopoiesis alters developmental trajectories and how this contribute to phenotypic heterogeneity in the mature myeloid compartment. Given that aberrant myelopoiesis is implicated in the pathogenesis of many diseases, from cardiovascular disease to cancer, understanding these regulatory mechanisms has significant translational potential.

James Swann, DPhil

Postdoctoral Research Fellow

James qualified as a veterinarian from the University of Cambridge in 2010 before completing his residency in small animal internal medicine at the Royal Veterinary College in London to become board-certified in 2016. He then completed his doctoral studies at the Kennedy Institute of Rheumatology, University of Oxford, investigating the impact of chronic inflammatory arthritis on hematopoiesis, and received his DPhil in 2020. He has joined the Passegué lab to develop his current interest in the intersection of emergency myelopoiesis mechanisms and development of leukemia.
Students
Carl Mitchell

Carl earned a B.A. in biochemistry and a B.M. in jazz performance from Oberlin College & Conservatory in 2015. He then spent three years as a research assistant in Gunter Blobel's laboratory at The Rockefeller University, an experience which confirmed his passion for biological research and inspired him to pursue his doctoral studies here at CUIMC. Since joining the Passegué lab in 2019, his work has focused on investigating the functional decline of hematopoietic stem cells with age. Specifically, he hopes to further characterize pathways implicated in features of DNA damage and replication stress observed in old HSCs.

Melissa Proven

Melissa received a BS in microbiology from the University of Rochester in 2020. Following graduation, she entered the Biological Sciences Doctoral Program at Columbia, and joined the Passegué Lab in 2021. Melissa is researching the epigenetic alterations observed during HSC aging and investigating potential HSC rejuvenation approaches in mice.

Ruiyuan Zhang

Ruiyuan (Ray) graduated with a B.S. and a M.S. in Biology from University of California, San Diego in 2020. She joined the Passegué lab in 2022 as a PhD candidate and mainly focuses on mouse bone marrow niche. With a collaboration with the Vunjak-Novakovic lab in the Biomedical Engineering department, she hopes to establish a bone-marrow-on-a-chip model recapitulating key characteristics of the bone marrow niche and uses it to study how hematopoietic stem and progenitor cells behave in different conditions like aging and leukemia.
Staff
Jenny Perez Bruno

Jenny earned a B.A in Biology, two minors in Psychology, and Spanish literature from The City College of New York in 2018. She spent six months as an undergraduate researcher in Patricia Morris laboratory at The Rockefeller University, a significant experience that influenced her to pursue a career in biological science. As well as took part as a Teacher assistant at LaGuardia Community College for five years. She did a two years fellowship as an undergraduate at The Graduate Center of the City University of New York. She joined the Passegué lab in 2019, her work consists of assisting Postdoctoral Researchers fellows, faculty and PhD students in the lab, which has inspired her to pursue a career in biological research/ medical school.

Brandon Wright

Brandon received a B.S. in biology from the City College of New York in 2020 as an NIH-MARC scholar. During his undergraduate studies, he pursued research in a genetics lab examining the physiological changes within transgenic Drosophilae. He joined the Passegue lab in 2022.