Trainee Opportunities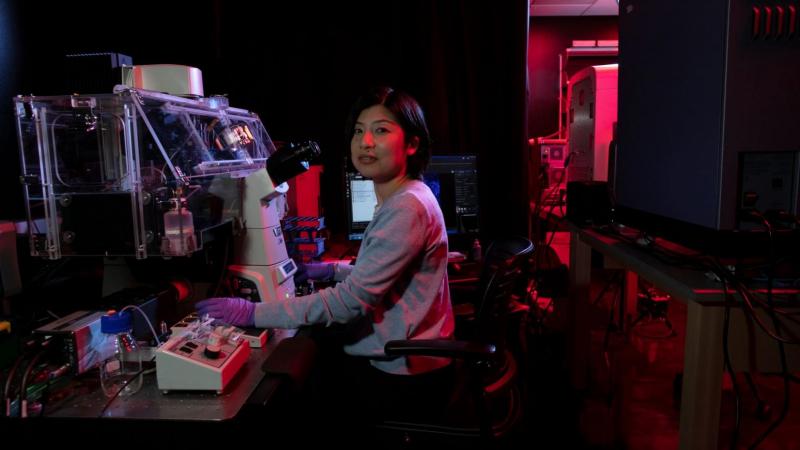 Postdoctoral Research Scientist positions are available in the laboratory of Carol Mason, in the Zuckerman Institute at Columbia University. The laboratory studies the development of retinal ganglion cells (RGCs) in the mouse, specifically how cell fate is specified with regard to the binocular circuit. We use cellular and molecular tools to unravel the biological steps in this process, including cellular imaging, transcriptomics, proteomics, stem cell approaches, and behavior. The lab newly addresses the role of the retinal pigment epithelium (RPE), in neurogenesis and cell specification. We collaborate with labs within the Zuckerman Institute and at Columbia's Medical Center in the departments of Ophthalmology, Pathology, and Neuroscience, and researchers nationally and internationally. We seek individuals who are highly motivated and collaborative, and who wish to further develop their critical thinking and scientific independence. In turn, the candidate will have ample opportunity to engage in the latest technologies, publish high quality research, gain professional skills in fellowship applications and career progression, present their work, and network in the fields of neuroscience, stem cell research and ophthalmology.
The applicant should ideally have a strong interest in developmental neurobiology and/or visual system development, disease and regeneration, and have Ph.D. Neuroscience, Biology or related field. Applicants with knowledge of cell and molecular biological techniques, 'omics technology, live/computer assisted imaging, tissue culture, and human/mouse embryonic stem cell technology, and/or are preferred.
For more details and to apply: cam4@columbia.edu
The Anacker Lab at the Columbia University Irving Medical Center (CUIMC) is looking for a highly motivated and independent postdoctoral researcher to investigate the neurobiological mechanisms of stress-induced psychiatric disorders.
The lab studies the neural circuits and molecular mechanisms by which stress causes impairments in cognition and emotional behaviors that contribute to depression and anxiety. Our goal is to identify novel cellular and molecular targets that can be used in the future to better treat or prevent the development of stress-induced psychiatric disorders.
We use mouse models of early life adversity and psychosocial stress to investigate how stress across the lifespan influences cortico-limbic circuits, neurotransmitter systems, and molecular signaling in stress sensitive brain regions. We are specifically interested in understanding how these neurobiological mechanisms differ between stress susceptible and resilient individuals. To do this, the lab uses advanced neuroscience techniques, such as in vivo Ca2+ imaging with head-mounted miniature microscopes to image neural activity in freely moving mice, fiber photometry to image biosensors for neurotransmitters, optogenetics & chemogenetic techniques to stimulate or inhibit specific neural projections, virus-mediated gene delivery, neural circuit tracing, and computational analyses of complex cell activity data. In addition to this circuit level analysis, the lab uses next-generation RNA sequencing and DNA methylation analyses (WGBS) to investigate how stress exerts long-lasting effects on neural circuit function by altering gene expression and molecular signaling pathways.
Applicants are required to have a Ph.D. in Neuroscience or other relevant disciplines. Applicants are also required to have experience with rodent behavior, rodent stereotactic brain surgery, optogenetics, in vivo Ca2+ imaging, or next generation sequencing. Experience in PYTHON and MATLAB programming languages is preferred. Positions are available immediately.
Please submit your CV with contact information for 3 references to Dr. Christoph Anacker (ca2635@cumc.columbia.edu).
Postdoctoral positions are available in the laboratory of Jianlong Wang, Department of Medicine, Columbia Center of Human Development. The project is to study RNA epigenetics (e.g., m5C modification) in stem cell pluripotency, early development, and cancer.

The overall interest of the lab is to understand the molecular mechanisms of cellular plasticity and cellular reprogramming in both mouse and human systems. Particularly, we are interested in transcriptional, post-transcriptional (RNA modification), epigenetic and epitranscriptomic control of gene expression in regulating stem cell potency, early development and cancer. We employ protein biochemistry, DNA/RNA epigenetics, molecular biology, and bioinformatics to study stem cell biology and early development. Applicants should have a PhD and/or M.D. degree in life sciences with strong experimental skills including proficiency with mammalian cell/tissue culture, biochemistry and molecular biology and other basic laboratory techniques. Research experience in cancer biology is a plus. In addition to being self-motivated, the ability to work independently and as part of team with good communication skills are highly desirable.
To apply:
Qualified applicants should submit via e-mail a C.V., a cover letter to demonstrate your qualification, and a list of three names as professional references to: jw3925@cumc.columbia.edu