Leadership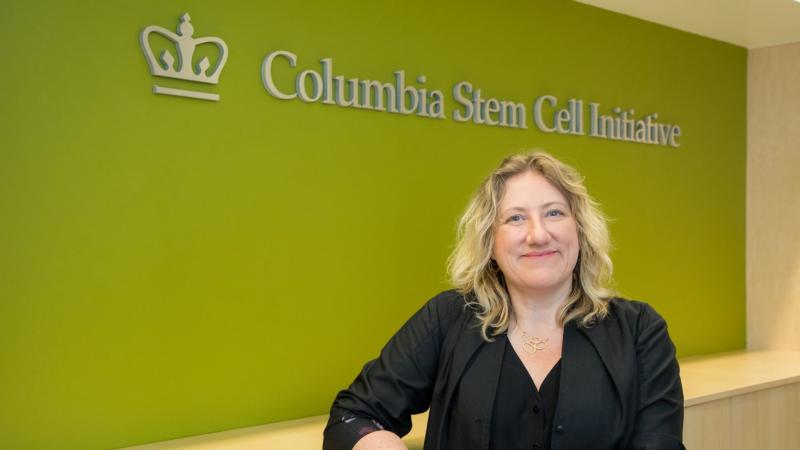 Letter from CSCI Director: 2018-2019 Year in Review
Dear colleagues,
Another great year, and a new letter to recapitulate what has happened during the second year of existence of the Columbia Stem Cell Initiative (CSCI) and highlight some exciting new events that will take place next year.
CSCI Year 2 – A Recap
Let me start by thanking all of you for your continued support and commitment to CSCI. It is my great pleasure working with such a group of driven and outstanding scientists, and this year really saw the coalescence of our diverse pool of faculty, trainees and CSCI staffs into a fantastic and increasingly cohesive stem cell community.
Our faculty membership has grown by ~ 25% compare to last year, with now 28 full members and 21 affiliated members on record. These numbers still do not capture the broad appeal of CSCI programmatic activities and their visibility on campus, and are expected to continue increasing with both new recruitments and growing interest of existing Columbia faculty to join CSCI. In particular, we conducted a successful two-day recruitment symposium this winter, which was in itself a very exciting event and resulted in the acceptance by Dr. Joanna Smeeton, PhD, to join CSCI as an Assistant Professor in the Department of Rehabilitation and Regenerative Medicine. Joanna will be working on the molecular and cellular mechanisms of cartilage and ligament regeneration using cross-species comparative approaches grounded in the use of the zebrafish model, and a range of techniques including live imaging, gene editing and single cell RNA sequencing. Joanna will be joining us in January 2020, and her laboratory will be located on the remodeled 11th floor of the William Black Building in our new CSCI headquarters.
The opening of the CSCI new floor is another one of the big achievements of this year. It was more than 2 years in the making from planning to moving, and culminated in an official "Ribbon Cutting and Opening Reception" that was held with Dean Lee Goldman in early June. This new headquarters is anchoring the Stem Cell Initiative at the center of the Columbia University Irving Medical Campus. It directly provides research space for a total of 7 independent groups including Drs. Lei Ding, Masayuki Yazawa and my own laboratory, and our 4 anticipated recruits starting with Dr. Joanna Smeeton laboratory. It also brings together our 2 outstanding CSCI Core Facilities in dedicated state-of-the-art spaces, our Stem Cell Core directed by Dr. Barbara Corneo and her team and our Flow Cytometry Core run by Mike Kissner and his team. Finally, it provides a real home for the CSCI administrative team and our programmatic, fundraising and outreach activities, with a large conference room and a dedicated breakroom with a living green wall that is a first on campus. Lalena Luna, my executive assistant, has also been promoted to administrative coordinator to reflect her increasing involvement in CSCI management.
We have had another very successful year of programmatic activities including 14 presentations by invited guest speakers for our monthly seminar series, 2 journal editor visits, 18 work-in-progress (WIP) sessions featuring presentations by 36 trainees, and a series of informal events including 7 monthly happy hours and our annual Holiday Party. We had our 2nd yearly lottery for NYSCF annual meeting free registration and our 2nd annual photo contest with 6 winners whose great pictures are now displayed on the walls of our headquarters. We also selected Drs. Claudia Doege, Hynek Wichterle and Masayuki Yazawa as the recipients of the first round of CSCI Seed Fund Grants, and are looking forward to hearing soon about the results of their innovative research. Finally, after the spring 2018 retreat, we established a "CSCI Trainee Council" composed of 11 members from different laboratories and career stages that spearheaded new trainee activities including managing a list-serve for reagent requests and information exchange, developing a new monthly PI spotlight on the website, and hosting career development panels. I cannot thank everyone for their contribution to our programmatic activities, which are really the heart and soul of our stem cell community. Special kudos for our faculty members for their contribution to various committees, last-minute requests, and post-WIP talk briefing sessions; and our corporate sponsors for their ongoing support and invaluable contributions to the life of our community.
CSCI Year 3 - Looking Ahead
For the next academic year, now that the move and setting of the new CSCI space is behind us, my focus will be on developing further the scientific strength and financial stability of the Stem Cell Initiative, while, of course, still maintaining and further nurturing the growth of our programmatic activities and core facilities.
Focus on recruitment - we will continue our recruitment efforts for one or two new junior faculty with job posting in August and recruitment events taking place in the fall/winter of 2019-2020.
Planning for center grant & training grant funding - we will start building a portfolio of grants to support the scientific mission of the Stem Cell Initiative. Discussions are ongoing with the NIH to identify applicable P30 (Center Core Grant) and/or P50 (Specialized Center Grant) that could be used by CSCI. Two institutes (e.g., NIDDK and NIA), have also express interest for application from CSCI to T32 institutional training grants. Strategizing for these applications will happen during the coming year.
Developing fundraising & outreach initiatives – building on our successful opening event, we will further develop our dedicated fundraising and outreach activities. Several events are in discussion and will be brought to your attention over the months to come. We will also continue our very valuable interactions with our corporate sponsors through technology lunches and product fairs.
2nd CSCI scientific retreat – we will organize another exciting two-day off-site scientific retreat and networking event in the spring of 2020. I hope that it will be as successful as our first retreat to bring together the Stem Cell community at Columbia and, eventually, at other New York City Institutions.
Establishing our scientific advisory board – we will contact leaders in the stem cell field and assemble our scientific advisory board in order to invite them on campus for our first International Stem Cell Symposium, now anticipated for the Spring of 2021.
These are just a few examples of what we are planning for next year, while also keeping a lot of flexibility for impromptu events and activities. Please stay tuned, since I cannot stress enough how much your involvement and participation to CSCI is contributing to the success of the Stem Cell Initiative.
Much looking forward to another very exciting year ahead.
Sincerely,
Emmanuelle