Smeeton Lab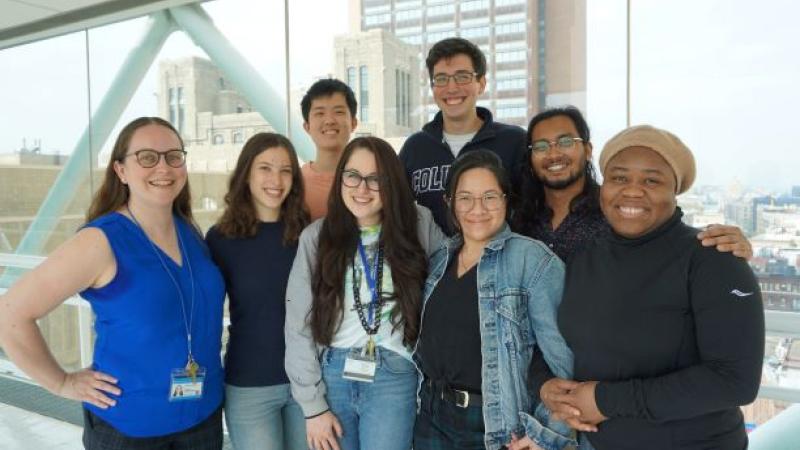 Location and Contact Information
650 West 168th Street
Room 1110
United States
Joint Development and Regeneration
Osteoarthritis – the progressive deterioration of joints due to injury and/or wear-and-tear – is the leading cause of disability in the United States. Unfortunately, the cartilage and ligaments of mammalian joints show little ability to regenerate following damage. We have developed novel genetic and joint injury models in the highly regenerative zebrafish to uncover endogenous stem cell populations within adult joints. Studies in our laboratory use genetic, cellular, and molecular approaches in zebrafish to understand how joint cells are activated following injury and to uncover the regulatory framework of cell fate decisions during the differentiation of progenitor cells into articular cartilage and ligaments. Our long-term goal is to translate these findings to activate stem cells for joint repair and develop regenerative treatments to restore function in patients suffering from osteoarthritis or traumatic joint injury.

Select Publications
Fabian P, Tseng K-C, Thiruppathy M, Arata C, Chen H-J, Smeeton J, Nelson N, and J Crump JG. (2022) "Lifelong single-cell profiling of cranial neural crest diversification." Nature Communications 13 (1), 1-13

Smeeton J*, Natarajan N, Anderson T, Tseng KC, Fabian P, Crump JG*. (2022) "Regeneration of Jaw Joint Cartilage in Adult Zebrafish." Frontiers in Cell and Developmental Biology 9.

Zebrafish model for spondylo-megaepiphyseal-metaphyseal dysplasia reveals post-embryonic roles of Nkx3.2 in the skeleton. Smeeton J*, Natarajan N, Kumar AN, Miyashita T, Baddam P, Fabian P, Graf D, Crump JG*.(co-corresponding authors) (2021) Development. Jan 25;148(2):dev193409

Identification of the skeletal progenitor cells forming osteophytes in osteoarthritis. Roelofs AJ, Kania K, Rafipay AJ, Sambale M, Kuwahara ST, Collins FL, Smeeton J, Serowoky MA, Rowley L, Wang H, Gronewold R, Kapeni C, Méndez-Ferrer S, Little CB, Bateman JF, Pap T, Mariani FV, Sherwood J, Crump JG, De Bari C.Ann Rheum Dis. 2020 Dec;79(12):1625-1634. doi: 10.1136/annrheumdis-2020-218350. Epub 2020 Sep 22.

De novo variants in GREB1L are associated with non-syndromic inner ear malformations and deafness. Schrauwen I, Kari E, Mattox J, Llaci L, Smeeton J, Naymik M, Raible DW, Knowles JA, Crump JG, Huentelman MJ, Friedman RA.Schrauwen I, et al. Hum Genet. 2018 Jul; 137(6-7):459-470. doi: 10.1007/s00439-018-1898-8. Epub 2018 Jun 28. Hum Genet. 2018.PMID: 29955957 Free PMC article.

Integrin-linked kinase regulates p38 MAPK-dependent cell cycle arrest in ureteric bud development. Smeeton J, Zhang X, Bulus N, Mernaugh G, Lange A, Karner CM, Carroll TJ, Fässler R, Pozzi A, Rosenblum ND, Zent R.Smeeton J, et al. Development. 2010 Oct; 137(19):3233-43. doi: 10.1242/dev.052845.Development. 2010.P MID: 20823064 Free PMC article.