Maura Boldrini, MD, PhD
Virtual Visits/Telehealth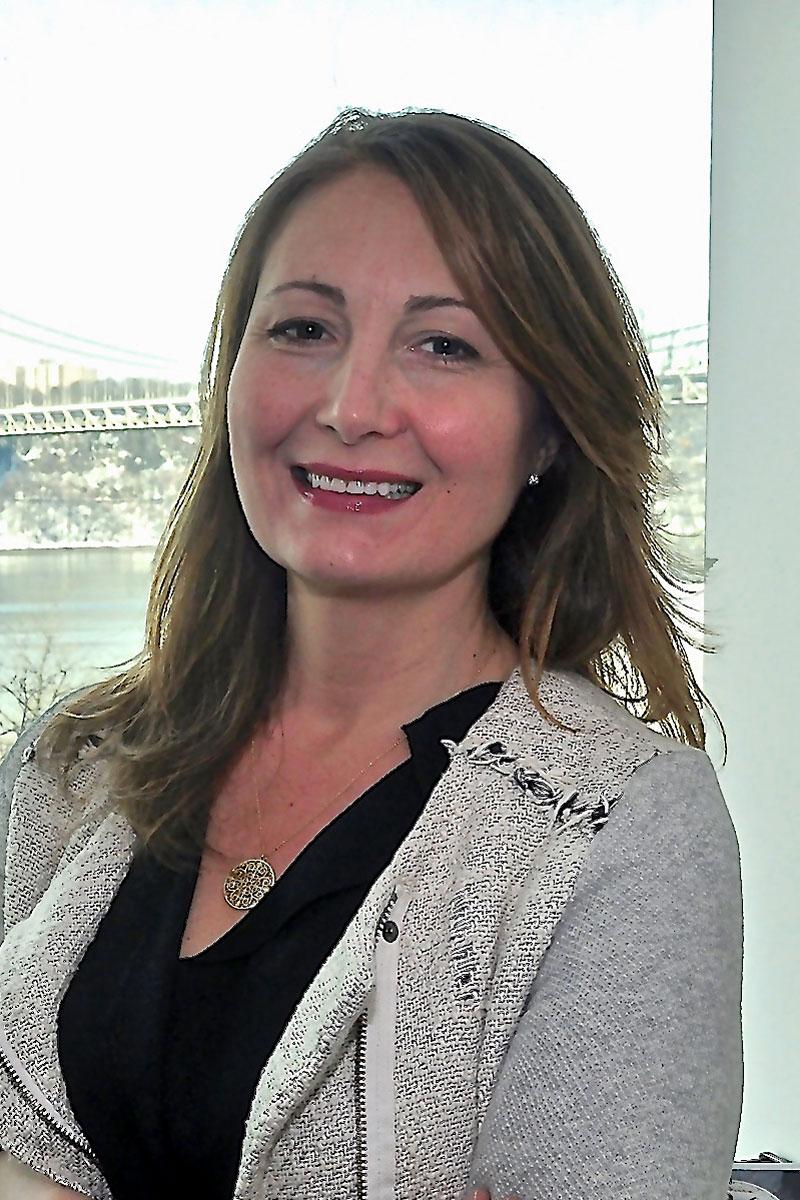 Overview
Maura Boldrini, MD, PhD is an Associate Professor of Psychiatry, Director of the Quantitative Brain Biology (Brain QUANT) Institute, and the Human Neurobiology laboratory in the Department of Psychiatry at the Vagelos College of Physicians and Surgeons, Columbia University Irving Medical Center, and the New York State Psychiatric Institute. Her research focuses on understanding underlying mechanisms of behavioral, cognitive, and emotional changes associated with brain diseases.

The Brain QUANT Institute's mission is to apply cutting edge quantitative neuroscience methods to human brain tissue to understand how the brain functions and diseases develop. Quantitative cutting-edge technologies are applied to interrogate, at a single cell and regional level, the molecular basis of brain biology and pathology.
We focus on understanding genetic and environmental factors that shape brain function in psychiatric disorders, suicidal behavior, aging, dementias and COVID brain.
Our goal is to identify new treatment targets for drug discovery and inform precision medicine approaches for patient care.
In her practice, Dr. Boldrini specializes in affective disorders and suicidal behavior. She has experience treating emotional and behavioral problems, including depression, anxiety, personality disorders, addictions, and stress reactions. 
"I believe in individualized medicine. I focus on understanding the struggles and goals of every person I see, and I believe in establishing long term relationships with my clients and families. I like to provide them with comprehensive support throughout the difficult times they are facing." 
Dr. Boldrini's treatment strategies are informed by her research efforts, for which she received the Columbia University Gray Matters award, and was invited to participate in a panel discussion about new treatment strategies to combat depression and anxiety. 
In her laboratory, Dr. Boldrini is studying brain circuits at the cellular and molecular level, and she is interested in understanding how the mind and the brain interact generating symptoms that make people suffer. She has extensively studied neuron re-growth in the brain and has shown that the human brain can make new neurons throughout our lifetime. Neuron regeneration is learning and memory, copying with stress, healthy aging, and mental health. For the past few years, she has also been studying how neuroinflammation and COVID-19 affect brain function.
She has published over 50 scientific articles and edited 7 books on depression and suicide, stress responses, panic disorder, and atypical antipsychotics. Her research on brain biology has been published in Nature, Nature Neuroscience, Brain, Molecular Psychiatry Cell Stem Cell, Biological Psychiatry, Neuropsychopharmacology and other top journals.
Dr. Boldrini has received vast recognition for her work on COVID brain, focused on understanding how this infection, and neuroinflammation, induce brain symptoms that can be long lasting and changing people's lives. Her work was featured in an episode of Healthy Minds with Dr. Jeffrey Borenstein, the Los Angeles Times, L.A. Times Today, National Geographic, The New York Times, and highlighted by New York Presbyterian Hospital and Columbia University.
She has been internationally recognized for her work on "New Neurons" in the human brain. Her research has been covered by more than 800 national and international media outlets, including: Science Friday podcast: "Do Our Brains Keep Growing As We Age?", BBC Radio 4 "The World Tonight", BBC World Service Radio, The Scientist, Los Angeles Times, TIME, Reuters, CBS News, U.S. News & World Report, Science Daily, Forbes "Older People Can Still Produce New Brain Cells, Study Shows" and Forbes "How Scientist Are Helping New Neurons Survive In The 'Battle Field' Of Alzheimer's Disease", The Economist, The Guardian, Discover Magazine, and The Scientist.
She serves as faculty and mentor in the Columbia Doctoral Program in Neurobiology and Behavior, Stem Cell Initiative, Data Science Institute, and Zuckerman Mind Brain and Behavior Institute. She has been teaching and supervising graduate and undergraduate students, medical students, psychiatry residents and postdocs.

Academic Appointments
Associate Professor of Psychiatry
Hospital Affiliations
NewYork-Presbyterian / Columbia University Irving Medical Center
Schedule an Appointment
Virtual Visits/Telehealth
Virtual Visits allow you to connect with your provider from the comfort, convenience, and safety of your own home.
New and Existing Patients:
Connect Patient Portal
For existing patients, login to make an appointment, view documentation or contact your care provider.
Insurance Accepted
Aetna
Aetna Signature Administrators
EPO
HMO
Medicare Managed Care
NYP Employee Plan
NY Signature
POS
PPO
Student Health
Affinity Health Plan
Essential Plan
Medicaid Managed Care
Empire Blue Cross/Blue Shield
Empire Blue Cross Blue Shield HealthPlus
Child/Family Health Plus
Essential Plan
Medicaid Managed Care
Fidelis Care
Child/Family Health Plus
Essential Plan
Medicaid Managed Care
Medicare Managed Care
Healthfirst
Child/Family Health Plus
Leaf (Exchange)
Medicaid Managed Care
Medicare Managed Care
Quality Health Management
Quality Health Management
UnitedHealthcare
Behavioral Health (Columbia University Employee Plan)
WellCare
Medicaid Managed Care
Medicare Managed Care
World Trade Center Health Plan
World Trade Center Health Plan
*Please contact the provider's office directly to verify that your particular insurance is accepted.
Credentials & Experience
Committees, Societies, Councils
2023-             Member: ACNP Scientific Communications Committee
2021-              Member: Cajal Club
2019-              Member: International Society for Stem Cell Research (ISSCR)
2018-              Member: American College of Neuropsychopharmacology (ACNP)
2014-              Member: American Psychiatric Association (APA)
2013-              Member: International Academy for Suicide Research (IASR)
2008-             Member: Society of Biological Psychiatry (SOBP)
2007-             Member: Society for Neuroscience (SfN)
Honors & Awards
2023               Keynote Speaker, 4th Annual Advancing Cross-Disciplinary Outreach in Neuroscience (AXON) Conference, April 22, 2023, New Brunswick, NJ 
2023               Invited Lecturer, University of Miami Miller School of Medicine, Department of Psychiatry and Behavioral Sciences Grand Rounds, March 1, 2023, Miami, FL 
2023               Invited Lecturer, Baylor College of Medicine Department of Neuroscience Grand Rounds, February 24, 2023, Huston, TX
2022               Invited Lecturer, World Psychiatric Association, August 3-6, 2022, Bangkok, Thailand
2022               Invited Lecturer, Columbia Neurobiology and Behavior Program, September 30, 2022, Tarrytown, NY
2021               Invited Lecturer, Columbia Stem Cell Initiative Retreat, October 12, 2021, Chappaqua, NY
2021               Invited Lecturer, Columbia Translational Neuroscience Initiative (CTNI) Fortnightly Luncheon, June 25, 2021, New York, NY
2020               Invited Lecturer, Zuckerman Institute Stavros Niarchos Foundation Brain Insight Lecture Series, September 23, 2020, New York, NY
2020               Invited Lecturer, NIA Workshop: Neurogenesis and Aging, March 16-17, 2020, Bethesda, MD
2020               Invited Lecturer, Department of Psychiatry Grand Rounds, Stony Brooks University, March 3rd, 2020, New York, NY
2019          Fellow, Gray Matters at Columbia University, New York, NY
2019               Publication featured in Cell Stem Cell Best of 2018: Boldrini M, Fulmore CA, Tartt AN, Simeon LR, Pavlova I, Poposka V, Rosoklija GB, Stankov A, Arango V, Dwork AJ, Hen R, Mann JJ. Human Hippocampal Neurogenesis Persists Throughout the Eighth Decade of Life. Cell Stem Cell. 2018 Apr 5;22(4):589-599.e5. doi: 10.1016/j.stem.2018.03.015. PMID: 29625071
2019               Invited Lecturer, 2nd Neurogenesis Conference, March 5-8, 2019, Nassau, Bahamas
2019               Invited Lecturer, 4th Eurogenesis meeting, June 11-13, 2019, Bordeaux, France
Research
In my laboratory, current research focuses on studying stem cells in the human brain and the neurogenic niche associated with them, which involves new vasculature and capillaries. Adult neurogenesis, the making of new neurons in adult life, is a mechanism of brain plasticity occurring in mammals including humans, which is necessary for learning and coping, shows adaptation to the environment and a significant response to drugs and medications.

We are studying mechanisms involved in neural cell proliferation maturation and survival in the human brain, and how these change with normal and pathological conditions. We are interested in understanding changes in neurogenesis and neuroplasticity occurring with stress exposure, medications, and aging, and how they contribute to psychiatric disorders, cognitive disfunction, suicide, or resilience.

To decipher the neurobiological mechanisms involved in these phenomena, we are combining classic and data mining techniques investigating changes at the gene, transcript, epigenome, proteome, cellular, and brain circuit level. Alterations at any of these levels, resulting from genetic and environmental factors, ultimately affect human behavior. 
Dr. Boldrini's three main accomplishments have been showing that:
1. The hippocampus dentate gyrus is smaller in people with major depression, early life adversity and died from suicide.
2. In depressed patients treated with antidepressants adult hippocampal neurogenesis deficit and dentata gyrus volume shrinkage seen in untreated depression disappear.
3. Neurogenesis persists throughout the human lifespan into the eighth decade of life, although vascularization and neuroplasticity appear decreasing with aging, which might affect connectivity and survival of newborn and adult neurons.
Research Interests

 
Psychiatry

Stem Cell Biology

Neuroplasticity

Neuroinflammation

Neuropsychopharmacology
Animal and in vitro models of brain disorders
Research Interests
Brain Imaging
Models of brain aging, epilepsy and psychiatric disorders
Neural Degeneration and Repair
Neuroplasticity in brain aging, psychiatric disorders, epilepsy and suicide
Neuropsychopharmacology
Neurotransmitters systems involved in psychiatric disorders, epilepsy and suicide
Psychiatry
Stem Cell Biology
Grants
2022-2027                New technologies to identify molecular regulators of the human hippocampus neurogenic niche in healthy aging and Alzheimer's Disease
                                    NIA - R01AG076949
                                    Role: Principal Investigator        
2021-2024                 How the Novel Coronavirus Attacks the Brain NIAID - AI164769
Role: Principal Investigator
2018-2024                 Antecedents of Suicidal Behavior Related Neurobiology
                                    NIMH - 2P50MH090964
                                    Role: Co-Investigator (PI: Dr. Mann JJ)
Selected Publications
2023
Deng Y, Bartosovic M, Ma S, Zhang D, Kukanja P, Xiao Y, Su G, Liu Y, Qin X, Rosoklija GB, Dwork AJ, Mann JJ, Xu ML, Halene S, Craft JE, Leong KW, Boldrini M, Castelo-Branco G, Fan R. Spatial profiling of chromatin accessibility in mouse and human tissues. Nature. 2022; 609(7926): 375–383.  Published online 2022 Aug 17. doi: 10.1038/s41586-022-05094-1 PMCID: PMC9452302
Bartlett EA, Yttredahl AA, Boldrini M, Tyrer AE, Hill KR, Ananth MR, Milak MS, Oquendo MA, Mann JJ, DeLorenzo C, Parsey RV. In vivo serotonin 1A receptor hippocampal binding potential in depression and reported childhood adversity.

Eur Psychiatry.

2023 Jan 24;66(1):e17. doi: 10.1192/j.eurpsy.2023.4.PMID: 36691786
2022
*Soung A, Sissoko C, Nordvig A, Canoll P, Mariani M, Jiang X, Bricker T, Goldman J, Rosoklija G, Arango V, Underwood M, Mann JJ, Boon A, Dowrk A, Boldrini M, Klein R.

COVID-19 induces CNS cytokine expression and loss of hippocampal neurogenesis.

Brain.

2022 Aug 25:awac270. doi: 10.1093/brain/awac270. PMID: 36004663

Leitner DF1,2,3, Devore S, Laze J, Friedman D, Mills JD, Liu Y, Janitz MJ, Anink JJ, Baayen JC, Idema S, van Vliet EA, Diehl B, Scott C, Thijs R, Nei M, Askenazi M, Wisniewski T, Thom M, Aronica E,  Boldrini M, Devinsky O. Serotonin Receptor Expression in Hippocampus and Temporal Cortex of TLE Patients by PGES Duration. Epilepsia. 2022 Aug 21. doi: 10.1111/epi.17400. PMID: 36053862

Deng Y, Bartosovic M, Ma S, Zhang D, Kukanja P, Xiao Y, Su G, Liu Y, Qin X, Rosoklija GB, Dwork AJ, Mann JJ, Xu ML, Halene S, Craft JE, Leong KW,

 Boldrini M,

Castelo-Branco G, Fan R. Spatial profiling of chromatin accessibility in mouse and human tissues. Nature. 2022 Sep;609(7926):375-383. doi: 10.1038/s41586-022-05094-1. Epub 2022 Aug 17. PMID: 35978191 
Ammothumkandy A, Ravina K, Wolseley V, Tartt AN, Yu PN, Corona L, Zhang N, Nune G, Kalayjian L, Mann JJ, Rosoklija GB, Arango V, Dwork AJ, Lee B, Smith JAD, Song D, Berger TJ, Heck C, Chow RH, Boldrini M, Liu CY, Russin JJ, and Bonaguidi MA.

Altered adult neurogenesis and gliogenesis in mesial temporal lobe epilepsy patients.

Nat Neurosci,

2022 Apr;25(4):493-503. doi: 10.1038/s41593-022-01044-2. Epub 2022 Apr 5.PMID: 35383330
2021
*Klein R, Soung A, Sissoko C, Nordvig A, Canoll P, Mariani M, Jiang X, Bricker T, Goldman J, Rosoklija G, Arango V, Underwood M, Mann JJ, Boon A, Dowrk A, Boldrini M. COVID-19 induces neuroinflammation and loss of hippocampal neurogenesis. Res Sq. 2021 Oct 29:rs.3.rs-1031824. doi: 10.21203/rs.3.rs-1031824/v1. Preprint. PMID: 34729556
Lopez-Morinigo JD, Boldrini M, Ricca V, Oquendo MA, Baca-García E. Aggression, Impulsivity and Suicidal Behavior in Depressive Disorders: A Comparison Study between New York City (US), Madrid (Spain) and Florence (Italy). J Clin Med. 2021 Jul 9;10(14):3057. doi: 10.3390/jcm10143057.PMID: 34300222 

*Boldrini M

, Peter D. Canoll, Robyn S. Klein.  How the novel coronavirus affects the brain.

JAMA Psychiatry.

2021 Mar 26. doi: 10.1001/jamapsychiatry.2021.0500. Online ahead of print.

PMID: 

33769431
2019
10. Calati R, Boldrini M, Bensassi I, Maller JJ, Meslin C, Ritchie MWK, Courtet P, Artero S, Lopez-Castroman J.  Commentary on smaller hippocampal volume in current but not in past depression in comparison to healthy controls: minor evidence from an older adult sample. J Geriatr Psychiatry Neurol. 2019 Apr 28:891988719845504. doi: 10.1177/0891988719845504. PMID: 31030625
*Boldrini M

, Galfalvy H, Dwork AJ, Rosoklija GB, Trencevska-Ivainovska I, Palovski G, Hen R, Arango V, Mann JJ. Resilience Is Associated with Larger Dentate Gyrus while Suicide Decedents with Major Depressive Disorder have Fewer Granule Neurons.

Biol Psychiatry

. 2019 May 15;85(10):850-862. doi: 10.1016/j.biopsych.2018.12.022.

PMID:

 

30819514
2018
Besnard A, Langberg T, Levinson S, Chu D, Vicidomini C, Scobie KN, Dwork AJ, Arango V, Rosoklija GB, Mann JJ, Hen R, Leonardo ED, Boldrini M, Sahay A. Targeting Kruppel-like factor 9 (Klf9) in excitatory forebrain 1 neurons protects against chronic stress-induced dendritic spine enlargement and maladaptive fear responses. Cell Reports, 2018 Jun 12;23(11):3183-3196. doi: 10.1016/j.celrep.2018.05.040. PMID: 29898391

*Boldrini M

, Fulmore CA, Tartt AN, Simeon LR, Pavlova I,

Poposka V,

Rosoklija GB, Stankov A, Arango V, Dwork AJ, Hen R, Mann JJ. Human Hippocampal Neurogenesis Persists Throughout the Eighth Decade of Life.

Cell Stem Cell

. 2018 Apr 5;22(4):589-599.e5. doi: 10.1016/j.stem.2018.03.015.

PMID: 29625071

Pillai RLI, Zhang M, Yang J, Boldrini M, Mann JJ, Oquendo MA, Parsey RV, DeLorenzo C.

 Will imaging individual raphe nuclei in males with major depressive disorder enhance diagnostic sensitivity and specificity?

Depress Anxiety

. 2018 Jan 24. doi: 10.1002/da.22721. PMID: 29365217