Joriene C. De Nooij, PhD
Assistant Professor of Neurological Sciences (in Neurology)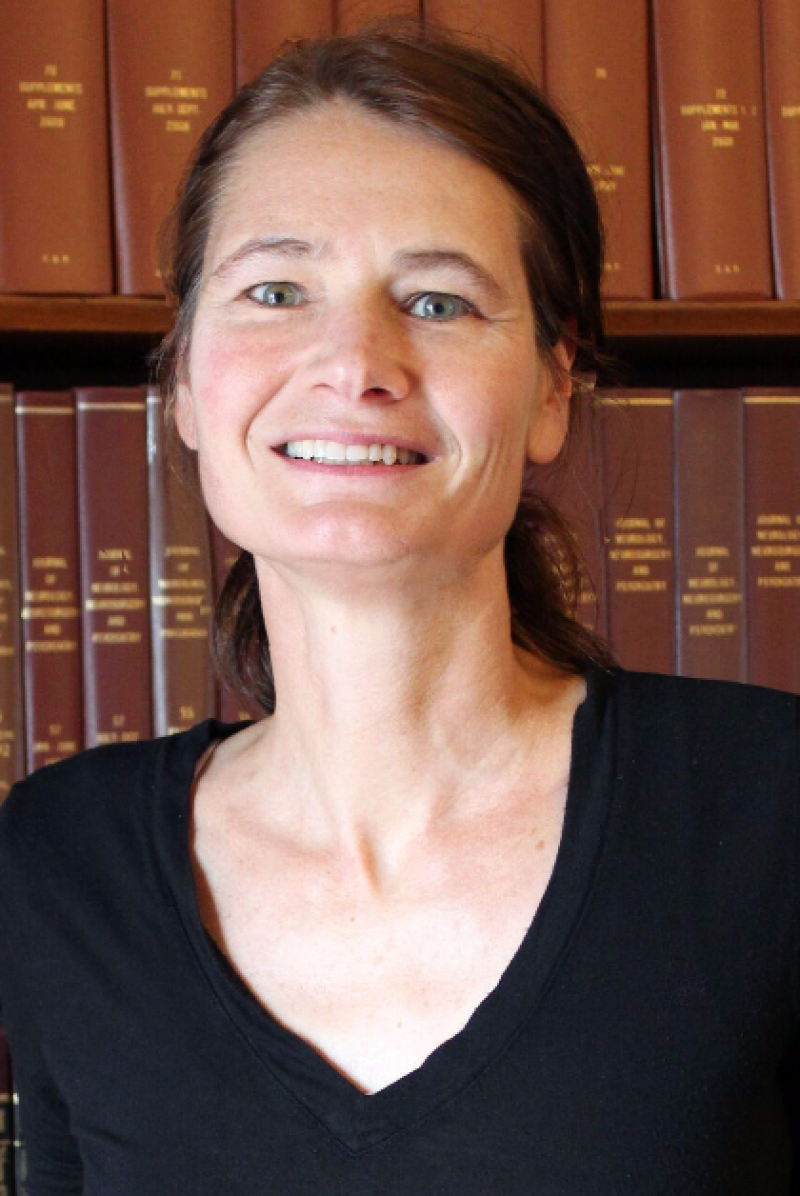 Overview
Research in my laboratory is aimed at understanding the molecular and cellular basis of the proprioceptive sensory system, which is critical for normal motor behavior. Specifically, we are interested in delineating the molecular correlates of the main proprioceptor subtypes (group Ia and II muscle spindle afferents and group Ib Golgi tendon afferents), and how each of these subclasses contribute in generating coordinated motor output. Using the mouse as a model system, we employ molecular (including single cell RNAseq), genetic, and viral strategies, to define the molecules that drive proprioceptor subtype specification, map the proprioceptive connectivity patterns in spinal cord, and to assess the behavioral consequences of the loss of proprioceptors through genetic (proprioceptor) inactivation studies.
An additional, and increasingly important, focus of my laboratory is our work on developing protocols to derive somatic sensory neurons - including proprioceptors - from human embryonic stem cells (ESCs) and induced pluripotent stem cells (iPSCs). The goal of these efforts is to develop in vitro model systems for sensory neuropathies such as Friedreich ataxia (FA) or chemotherapy-induced peripheral neuropathy (CIPN) – devastating disorders for which there is no cure and which are in desperate need of new model systems that permit high throughput screening approaches. Leveraging our in vitro ESC/iPSC model systems with our in vivo mouse models, we seek to advance our understanding of proprioceptor development and function in normal, as well as in neuropathological conditions.
Academic Appointments
Assistant Professor of Neurological Sciences (in Neurology)
Credentials & Experience
Education & Training
PhD, 1998 Utrecht University (Netherlands)
Committees, Societies, Councils
Honors & Awards
2015-2017 TFFI Innovation award (together with Hynek Wicherle, Joachim Scholz, Ellen Lumpkin)
2000-2003 Fellow of the Helen Hay Whitney Foundation.
Research
Research Interests
Cellular/Molecular/Developmental Neuroscience
Peripheral neuropathy/Disease modeling
Proprioception
Sensory neuron specification and differentiation
Stem Cell Biology
Selected Publications
Woo, S.-H., Lukacs, V., de Nooij, J.C., Zaytseva, D., Criddle, C.R., Francisco, A., Jessell, T.M., Wilkinson, K.A., and Patapoutian, A. Piezo2 is the principal mechanotransduction channel for proprioception. Nat Neurosci. 18:1756-1762, 2015.
De Nooij, J.C., Simon, C.M., Simon, A., Doobar, S., Steel, K.P., Banks, R.W., Mentis, G.Z., Bewick, G.S., and Jessell, T.M. The PDZ-domain protein Whirlin facilitates mechanosensory signaling in mammalian proprioceptors. J. Neurosc., 35: 3073-3084, 2015.
De Nooij, J.C., Doobar, S., and Jessell, T.M. Etv1 inactivation reveals proprioceptor subclasses that reflect the level of NT3 expression in muscle targets. Neuron 77:1055-1068, 2013.
Chen, A.I., de Nooij, J.C., and Jessell, T.M. Graded activity of transcription factor Runx3 specifies the laminar termination pattern of sensory axons in the developing spinal cord. Neuron 49: 395-408, 2006.
Kramer, I., Sigrist, M., de Nooij, J.C., Taniuchi, I., Jessell, T.M., and Arber, S. A role for Runx transcription factor signaling in dorsal root ganglion sensory neuron diversification. Neuron 49: 379-393, 2006.
Chen, C.L., Broom, D.C., Liu, Y., de Nooij, J.C., Li, Z., Cen , C., Samad, O.A., Jessell, T.M., Woolf, C.J., and Ma, Q. Runx1 determines nociceptive sensory neuron phenotype and is required for thermal and neuropathic pain. Neuron 49: 365-377, 2006.